Just like there are real-life games so are there crypto games are beautifully, there are some play-to-earn ones too. In this article, we glimpse through some crypto games to play this 2022.
10 Crypto Games to play in 2022
A crypto game is precisely what it says on the tin. That is to say, these titles allow you to earn digital assets while gaming, thus rewarding you financially for your engagement.
Pegaxy
Downloaded via playtoearn.online
A futuristic mythological horse racing game is called Pegasus Galaxy, or Pegaxy. Players can take part in the races and win prizes through the game.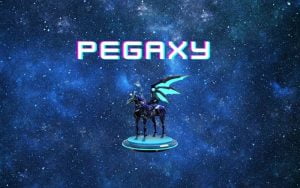 In order to succeed, players must grasp the game's mechanics, hone their talents, and dominate the opposition.
Pega is the name of the horses in the game. There are four distinct bloodlines: Klin, Zan, Hoz, and Campona. They may be gathered, bred, and sold again.
The native Polygon chain token for the Pegaxy platform is called VIS. By participating in the race and placing in the top 3, players can acquire VIS tokens. Players must, however, buy or rent a Pega from the market in order to participate in the race.
Battle Infinity
btcc.com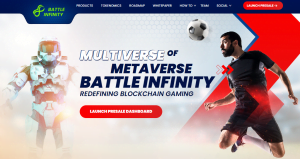 Battle Infinity is a multiple-player play-to-earn battle game built on the Binance Smart Chain. It is known as the Multiverse of Metaverse. Players can enjoy the battles in the gameplay.
Moreover, they can also experience the metaverse exclusively, which means players are allowed to interact with each other and explore the IBAT virtual battle arena. The gameplay is all about fantasy sports games.
Plant VS Undead
Source: https://plantvsundead.com/
Plant vs Undead is a game that is quite versatile, and its farm mode keeps you engaged with the opportunity to earn light energy, which leads to PVU tokens.
When you control your in-game Plant vs Undead assets in the form of non-fungible tokens (NFTs), there's a way through which you can make money by playing the game. This is what makes it a play-to-earn game.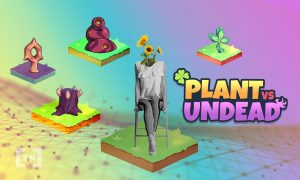 Plant VS undead game overview showing how players engaging in farm mode.
This is a game where players can manage their farm and produce the in-game currency known as Light Energy (LE).
Currently, these Light Energy tokens can be converted into the cryptocurrency token known as Plant vs Undead Token (PVU). This token can then be traded on various decentralized exchanges (DEXs).
To earn LE, you will need to harvest seeds, and perform daily quests, such as watering the plants of other players, and generally anything else surrounding the farm.
Gods Unchained
The same team that developed Immutable X, an Ethereum layer-2 scaling solution, also produced the game Gods Unchained.
This indicates that the game utilizes Immutable X, a decentralized application platform (dApp) that allows peer-to-peer trading between decentralized applications (dApps) and supports up to 9,000 transactions per second (TPS).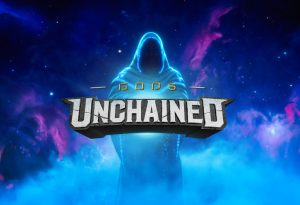 Players in the card game Gods Unchained engage in combat using a deck of cards.
the website godsunchained.com
Gods Unchained's game director at the moment is Chris Clay, a former game director for Magic the Gathering.
Having said that, Gods Unchained is a trading card game in which players engage in combat with one another while utilizing a deck of cards, core cards, and genesis cards.
Axie Infinity
the characters from the video game Axie Infinity
The first Ethereum-based NFT game to reach US$1 billion in sales was Axie Infinity on August 8, 2021. More than a million people are actively playing the game.
This non-fungible token (NFT) game, developed by the Vietnamese business Sky Mavis, is now the most well-liked one. One of the games on the blockchain with the highest revenue is this one.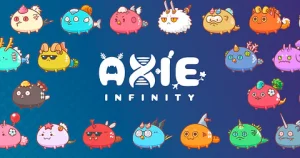 You may create a team of animals called Axies in Axie Infinity, which is essentially a Pokemon-inspired game where you utilize them to battle other players in the Arena mode or take on foes in the Adventure mode.
Available on the Zipmex exchange is Axie Infinity. To get started trading now, click here.
Illuvium
https://www.illuvium.io/
Illuvium is a 3D RPG Open World game on Ethereum Blockchain with auto-battle gameplay. Like old-school RPG gameplays, The primary task of players is to win the battles, complete quests, and upgrade ranks, while rewards will be ILV Tokens which are digital assets.
NFT Illuvial is a creature with different skills in players could collect and upgrade to win the battles. In the Illuvium marketplace, both NFT Illuvials and in-game items can be traded using real-world money like other NFT games.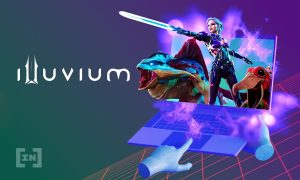 The spotlight of Illuvium is getting brighter after its integration with Immutable X, the protocols of Layer 2 solutions for NFTs with zero fee charges.
This makes Illuviums be able to offer its community Peer-to-Peer trading with no GAS fee, unlike other Ethereum blockchain-based gaming platforms.
Illuvium is expected to be released in the first quarter of 2022, allowing gamers to enjoy gameplay and trading across many DeFi platforms.
The Sandbox
Not only Decentraland is colonizing the world of metaverse blockchain, but The Sandbox is also a rising star for 3D virtual reality crypto games with a similar gameplay concept.
Players can use a utility token 'SAND' to transact in the marketplace and trade digital lands. The gimmick of Sandbox is indeed the limited supply of 166,464 lands, which drives up demand and costs an arm and a leg to obtain.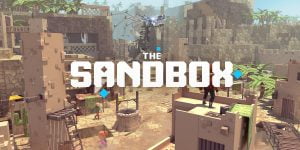 Speaking of the graphics and interface, The Sandbox's players will choose their own ways of monetizing content while reminiscing a classic experience of Minecraft where scenery and items are in block forms.
The best ways to Play to Earn in The Sandbox are to trade lands and objects and complete in-game tasks.
Age of Rust
https://www.ageofrustgame.com/
If you are looking for a Play-to-Earn crypto game with interactive story-based content, Age of Rust is highly recommended!
Imagine you awaken in a disastrous world in the 44th century where AI and machines seize power; you will explore the mysterious world and complete puzzles to collect tokens.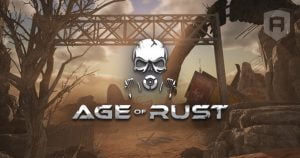 Age of Rust is a post-apocalyptic RPG game built under the ENJIN Protocol. The game is based on Ethereum blockchain, and the initial purpose of the game is to drive people's interest in the world of blockchain.
Players are destined to treasure hunt over 24 BTC hidden by the game creator, and those Bitcoins are now valued at more than 1,000,000 USD and 370,000 ENJ coins, which is a utility token in ENJIN Protocol's universe.
Spider Tank
Spider Tank, one of the GALA game community members, is a Free-to-play with play-to-earn mechanics using cutting-edge blockchain technology developed by GAMEDIA, an award-winning Netherland based.
Spider Tank, GALA game
https://www.spidertanks.game/
Players can earn through in-game skill-based competition, collecting game resources, and cycle upgrading.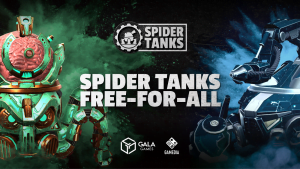 To upgrade their skills and firepower, players must explore a variety of NFT tank bodies, weapons, and special items in the strategic battle arena. In addition, there are many different game modes on Spider Tank players can experience and win the competition, by destroying the enemies on the tanks, as a team of 3 players.
Binemon
Binemon is an NFT game run on Binance Smart Chain. Players are allowed to breed and raise virtual NFT pets, Mons, let them fight the battles, and earn the rewards. There are two battle modes which are Player-versus-environment (PvE) and Player-versus-player (PvP).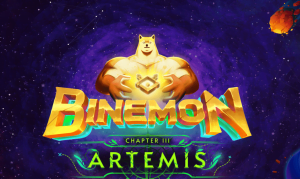 https://binemon.io/
Mons are not the only things Binemon players can collect. There are also special items called Ambrosia (AMB) that can be found on the infinite open-world landscape. Players can use AMB to empower and upgrade their Mons.
BIN, a BEP-20 Binemon's native token is used to buy Mons' eggs on the Binemon marketplace. There are four different races of Mons' eggs players will randomly receive which are cat, dog, unicorn, and titan.
COPYRIGHT WARNING!
You may not republish, reproduce, or redistribute any content on this website either in whole or in part without due permission or acknowledgment.
.
Proper acknowledgment includes, but not limited to;
(a) LINK BACK TO THE ARTICLE in the case of re-publication on online media,
(b) Proper referencing in the case of usage in research, magazine, brochure, or academic purposes,.
.
All contents are protected by the Digital Millennium Copyright Act 1996 (DMCA).
The images, except where otherwise indicated, are taken directly from the web, if some images were inserted by mistake violating the copyright, please contact the administrator for immediate removal.
.
We publish all content with good intentions. If you own this content & believe your copyright was violated or infringed, please contact us at [info@cyber.ng] for immediate removal.
About Post Author