The natural wonders and interesting landscapes that are found across Nigeria are more than qualified as ecotourism destinations in Nigeria. And there are more than a handful of them.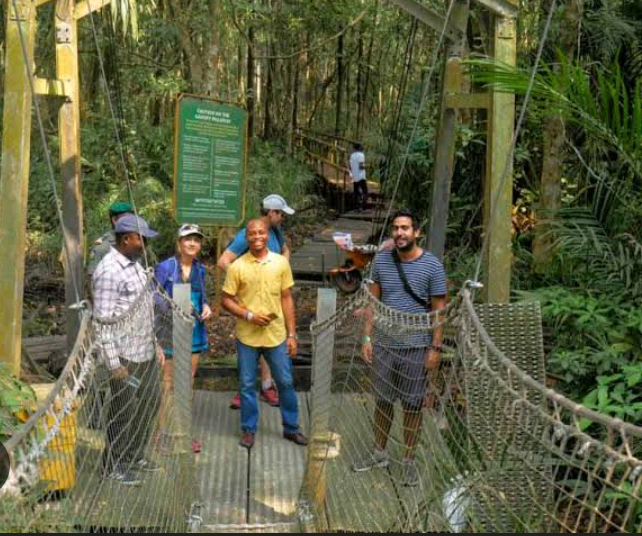 But just how much does the government and citizenry of Nigeria treasure their natural environment? How well does Nigeria maximize the blessings that come from its ecotourism industry? In particular, we need to be concerned about the effect of, and benefits of ecotourism to the host coḿmunities. The communities where these beautiful wonders of Nature are found should neither suffer, nor be ignored.
Ecotourism: The Definition and Scope
The World Tourism Organisation defines ecotourism as: 
"all nature-based forms of tourism in which the main motivation of the tourists is the observation and appreciation of Nature as well as the traditional cultures prevailing in natural areas."
Ecotourism is an industry that promotes the care and appreciation of the natural environment, without damaging it. It helps to preserve the well-being and cultural values of the local communities in which these natural tourist sites are found. All activities and experiences within the ecotourism sector are designed to be ecologically, commercially and socially sustainable. 
How Big is Ecotourism in Nigeria as an Industry?
Concerned followers and experts in the Nigerian tourism sector bemoan the low level of support from the government and private sector as a whole. And yet tourism, of which ecotourism is a significant part, has huge potentials in Nigeria yet unexplored.  Nigeria has a long list of exclusive ecotourism destinations which include (but are not limited to) the following:
Obudu Mountain Resort

Agbokim Waterfall

Alom Ikom Monoliths

Ibeno Beach

Yankari Game Reserve 

Lekki Conservation Centre

Oniru Beach 

Tarkwa Bay Beach

Elegushi Beach

Badagry Coconut Beach 

Eleko Beach

Argungu fishing village and festival

Awhum Waterfall

Ngwo Pine Forest

Ogbunike Caves

Shiroro WaterFall

Ikogosi Warm and Cold Springs

Oke-Idanre Hills

Surame Cultural Landscape

Sukur Landscape

Osun-Osogbo Grove 

Gashaki-Gumpti National Park 

Arochukwu Long Juju Slave Route

Cross Rock

Olumo Rock

Zuma Rock
The Benefits of Ecotourism in Nigeria
If ecotourism in Nigeria is taken seriously, the revenue generated can successfully exceed the proceeds from crude oil and gas. Indeed certain states of the federation are already cashing in from both ecotourism and other tourist attractions. Cross River State generates over 2 billion Naira from its famous carnivals and other tourist attractions annually. That is quite separate from the proceeds of the Obudu Mountain Resort, which alone yields at least N20.66 million every year.  
There is no doubt that other sectors of the Nigerian economy will gain positively from increased investment in the ecotourism sector. Such sectors will include aviation; foreign exchange; mass media; hospitality; creative arts; and advertising industries to mention a few. These are the sectors that facilitate easy movement and participation of tourists in and around Nigeria's renown ecotourism centers. They are critical vehicles that draw millions of visitors into the country annually. 
And not to forget the potential to create hundreds of jobs in the ecotourism sector if given the attention it deserves.  The indigenous people of the local host communities will be all too honored to preserve and promote the ecotourism centers on their soil for a living.
Even the educated elite will find innumerable jobs in this interesting industry. Private sector investors stand to gain a lot from investing in Nigeria's ecotourism centers. The revenue and media exposure that would come to entrepreneurs and corporate entities that invest in ecotourism in Nigeria is potentially massive. 
Additionally, arts and crafts centers, museums, history and heritage centers, markets and festivals within the vicinity will get additional patronage from ecotourism visitors. A good example would be the symbiotic connection between the Olusegun Obasanjo Library, and the Olumo Rock in Abeokuta, Ogun State. A visit to the Lekki Conservation center in Lagos may likely take you to the attractive beaches of the Lagos Island, as well as the Nike Art Gallery. To visit Obudu Mountain Resort at its peak period approaching end of the year, would encourage you to visit Calabar. And to attend the Cross River International Carnival. 
We should also take note that many of these ecotourism sites are of great cultural significance to their host communities. Sites such as the Egbunike caves, Osun-Osogbo Grove, Idanre hills, Arochukwu slave route, Ikogosi springs, Olumo Rock and more are good examples. They have long been associated with the history and cultural heritage of their host communities. 
To preserve these eco-tourist centers would be a good way to preserve the ancient heritage and cultural values of such host communities. It would give a sense of pride and unique identity to the indigenous people. While the revenue from such ecotourism sites would be highly useful for the infrastructural development and beautification of these local communities in question. 
Finally, the unique wildlife (both flora and fauna) in many of the ecotourism locations in Nigeria deserve careful attention. Ecotourism has become the major vehicle through which scores of endangered plant and animal species have been preserved. 
The activities of poachers, fishers, cattle rearers and the construction industry have tampered with large sections of Nigeria's landscape over the years. Industrial and environmental pollution, unchecked mining activities and other kinds of  environmental degradation have hugely contributed to this problem as well. 
Many animals and plants have been saved from outright extinction through ecotourism. Knowing that our wildlife helps to protect the quality of air, water and soil for the future is enough motivation to invest more in ecoourism in Nigeria.
COPYRIGHT WARNING!
You may not republish, reproduce, or redistribute any content on this website either in whole or in part without due permission or acknowledgment.
.
Proper acknowledgment includes, but not limited to;
(a) LINK BACK TO THE ARTICLE in the case of re-publication on online media,
(b) Proper referencing in the case of usage in research, magazine, brochure, or academic purposes,.
.
All contents are protected by the Digital Millennium Copyright Act 1996 (DMCA).
The images, except where otherwise indicated, are taken directly from the web, if some images were inserted by mistake violating the copyright, please contact the administrator for immediate removal.
.
We publish all content with good intentions. If you own this content & believe your copyright was violated or infringed, please contact us at [info@cyber.ng] for immediate removal.
About Post Author