This wasn't the demise of the U.S. women's national team dynasty.
History will record it as such, of course. The two-time defending champions making their earliest exit ever at a major tournament were eliminated 5-4 on penalty kicks by old foe Sweden on Sunday night.
By the most miniscule of margins, no less, after a game they should have won outright long before.
In truth, though, this end was months, years even, in the making. Trace it back to the injury in April of Mallory Swanson, who had single-handedly been carrying the team.
Or the injury last year to Catarina Macario, whose wizardry with the ball is both breathtaking and, for opponents, backbreaking.
Trace it all the way back to the Tokyo Olympics, when the USWNT first looked vulnerable. Old and slow. And beatable.
For all of the USWNT's trophies and stars – on their jerseys and on the field – the world recognized the Americans' flaws in that tournament.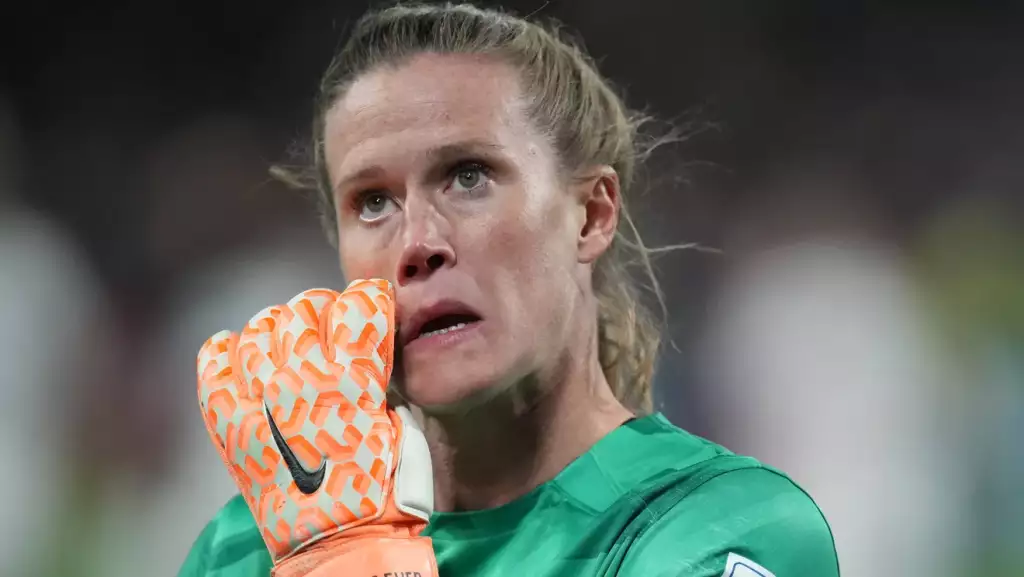 Whether it was injuries, the wrong personnel choices, the wrong tactics or the wrong coach, the USWNT couldn't find fixes in the months that followed. And they, and their legacy, paid the price in this tournament.
The USWNT didn't lose because a millimeter of the ball crossed the line on Lina Hurtig's penalty attempt, giving Sweden a 5-4 edge on penalties after a scoreless draw through regulation and 30 minutes of overtime.
Or because Sophia Smith skied her penalty shot and Kelley O'Hara banged hers off the post.
Or even because Megan Rapinoe, so automatic on penalties coach Vlatko Andonovski said she'd be his first choice if his life was dependent upon it, skied hers.
Also read: President Tinubu meets behind closed doors with billionaire businessman Mike Adenuga at State House
No, the USWNT lost because they squandered chance after chance after chance, in this game and so many others over the past several years.
"Everything was clicking except that final piece, putting that ball in the back of the net," co-captain Lindsey Horan said.
That, however, is the point of the game. To score. And if you aren't doing it, if you can't find a way to do it, then nothing else matters.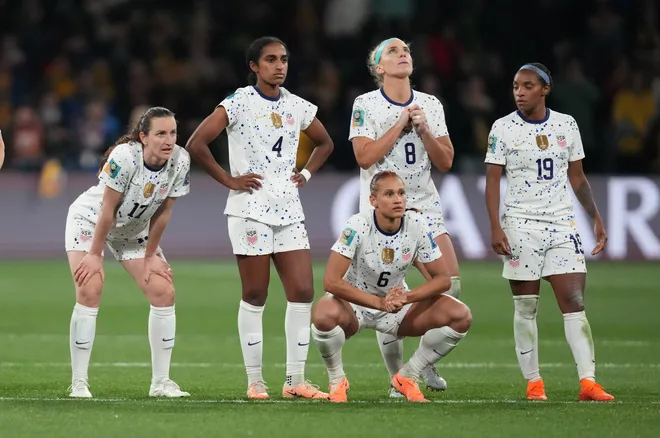 Yes, the Americans played better Sunday night against Sweden, finally showing the aggression and creativity needed to control a game. Something they've been sorely lacking.
But Horan's header on a corner kick banged off the crossbar in the 33rd minute, and Sweden goalkeeper Zećira Mušović got her fingertips on Horan's rocket of a volley 20 minutes later. Trinity Rodman had several dangerous chances saved. Mušović made fingertip saves on shots by both Alex Morgan and Lynn Williams.
And on and on.
Also read: Mandy Kiss begs DJ Chicken for forgiveness after making a request that offended him (Video)
"(Mušović) did incredible tonight. She made some saves not many goalkeepers in the world can make. I can't think of any other reason why we're out of the tournament," Andonovski said.
Sweden might have been more opportunistic than good, but it doesn't change the fact they've now beaten the United States in three of the last four major tournaments; Sent the USWNT to their earliest exits ever, too, first in the quarterfinals of the Rio Olympics and now in the round of 16 in this World Cup.
"This is a special team," Alex Morgan said. "It's just really terrible that we won't get a chance to continue because this really was a special group."
And yet, this will rank as one of the biggest failures in sports history.
Even with several significant injuries and an inexperienced roster, this is a disappointment of epic proportions. Think Tom Brady and the New England Patriots' losing their perfect season in the 2007 Super Bowl. Or UConn's 111-game winning streak ending in the 2017 Final Four. 
The USWNT has been the world's No. 1 team for the better part of the decade. They have four World Cup titles – only Brazil's men have won more – and four Olympic gold medals. With the exception of that quarterfinal loss at the 2016 Olympics, they'd reached the semifinals at every World Cup and Olympic tournament.
Now they're heading home before the quarterfinals. 
Also read: I mistakenly slept with my wife's sister twice, and now she's blackmailing me – Man cries out
It's a disappointing end to the final World Cup of Rapinoe, the Golden Ball and Golden Boot winner four years ago. And it will – or should – bring an end to Andonovski's time as the USWNT coach. He's well-liked by his players and had the difficult task of trying to integrate the next generation amidst the injuries. 
But the USWNT fell short of the gold-medal game at the Tokyo Olympics and were a shot off the post away from not getting out of the group stage here. In both tournaments, the team looked overmatched and out of sync, a collection of individual players trying to find something that worked rather than a cohesive team with a plan. 
That's not up to the USWNT's standards. Not anywhere close.
"It's a very tough moment. We didn't expect to be out in this moment. We didn't expect to go out the way we did," Andonovski said. "It's emotional. It is hard. I haven't really had chance to think about me, and I don't even want to think about me.
"It's selfish to think about me, my future, what I'm going to do when (the players) are going through this moment. I don't want to see them like that. That's all I think about."
But someone is going to need to think about it. If this World Cup has shown anything – besides the Americans' inability to finish – it's that the game is growing at lightning speed. The days of the USWNT, or anyone, steamrolling opponents is gone.
The USWNT has to find a way to adapt. Or it will become just another good team, rather than the exceptional one it's been for most of its existence.
It has tremendous young talent, but the growing pains of trying to integrate them into the team were on full display these last three weeks. It was hobbled by injury, but so were England and France and they didn't look as disjointed as the USWNT.
The youngsters got invaluable experience, and some powerful motivation to never feel like this again. If Swanson and Macario get healthy, the USWNT could return to its usual place of prominence as early as next summer's Paris Olympics.
But what was left of the air of invincibility that came with a decade of almost uninterrupted dominance is gone. Stunning as it was to see the USWNT's dynasty end at this World Cup, it was a demise long in the making.
COPYRIGHT WARNING!
You may not republish, reproduce, or redistribute any content on this website either in whole or in part without due permission or acknowledgment.
.
Proper acknowledgment includes, but not limited to;
(a) LINK BACK TO THE ARTICLE in the case of re-publication on online media,
(b) Proper referencing in the case of usage in research, magazine, brochure, or academic purposes,.
.
All contents are protected by the Digital Millennium Copyright Act 1996 (DMCA).
The images, except where otherwise indicated, are taken directly from the web, if some images were inserted by mistake violating the copyright, please contact the administrator for immediate removal.
.
We publish all content with good intentions. If you own this content & believe your copyright was violated or infringed, please contact us at [info@cyber.ng] for immediate removal.
About Post Author