The landscape of technology is ever-evolving, and Nigeria is no exception. With a growing tech ecosystem, Port Harcourt has become a hub for innovation, entrepreneurship, and talent. Aiming to foster this growth, a new tech community called TechHive has emerged. TechHive is dedicated to empowering individuals, businesses, and organizations to reach their full potential in the tech world.
About TechHive
TechHive is a vibrant community that brings together tech enthusiasts, developers, entrepreneurs, and innovators in Port Harcourt, Nigeria. Its primary goal is to create a supportive environment where members can collaborate, learn, and grow. Through networking events, workshops, and mentorship programs, TechHive seeks to bridge the gap between education and industry, equipping its members with the skills and resources needed to thrive in the technology sector.
The Importance of Tech Communities
Tech communities like TechHive play a crucial role in fostering innovation and nurturing talent. They provide a platform for individuals to share ideas, learn from experts, and access resources that can help them excel in their careers. Additionally, they encourage collaboration and networking, which often leads to new partnerships and business opportunities.
TechHive's Initiatives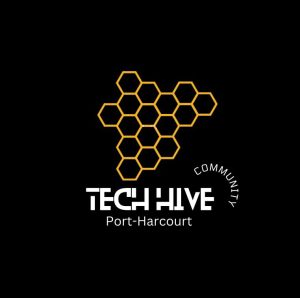 TechHive focuses on several key initiatives to drive its mission of empowering the Port Harcourt tech community:
Networking Events: TechHive organizes regular networking events, bringing together professionals from various tech domains. These events facilitate connections and collaboration among members, creating opportunities for growth and partnership.
Workshops and Training Programs: To ensure continuous skill development, TechHive offers workshops and training programs on various technology-related subjects. From coding bootcamps to seminars on emerging technologies, these events provide members with the knowledge needed to stay competitive in the tech industry.
Mentorship Program: Recognizing the value of guidance and support, TechHive has established a mentorship program that pairs experienced professionals with aspiring tech talents. This initiative helps members navigate the challenges of the tech world and gain insights from industry experts.
Hackathons: TechHive hosts regular hackathons that encourage innovation and collaboration among its members. These events challenge participants to develop creative solutions to real-world problems, fostering a spirit of teamwork and friendly competition. Hackathons not only serve as a platform for showcasing talent but also provide an opportunity for members to expand their skills and network with like-minded individuals.
Job and Internship Opportunities: TechHive collaborates with local businesses and startups to identify job and internship opportunities for its members. By connecting talented individuals with potential employers, TechHive contributes to the growth of both its members and the broader tech ecosystem in Port Harcourt.
Social Impact Projects: TechHive encourages its members to use their skills for social good. Through community-driven projects, members can apply their tech expertise to address local challenges and make a positive impact on society.
Join Us-
Whatsapp- Join Our Whatsapp Community
Website- Coming Soon….
Slack- Coming Soon….
Facebook- Coming Soon….
Twitter- Coming Soon….
Instagram- Coming Soon….
Sponsors
TechHive Nigeria is curently sponsored by Bruteforce Tech Academy and Cyber Data Hub. They are open to new partners and sponsorships reach out to robinokwanma@gmail.com or olumichael2015@outlook.com.
Conclusion
TechHive is an exciting new addition to the Port Harcourt tech ecosystem. By providing a supportive environment for learning, networking, and collaboration, TechHive is helping to shape the future of technology in Nigeria. With its various initiatives and a strong commitment to empowering its members, TechHive is poised to become a leading force in the country's tech landscape.
COPYRIGHT WARNING!
You may not republish, reproduce, or redistribute any content on this website either in whole or in part without due permission or acknowledgment.
.
Proper acknowledgment includes, but not limited to;
(a) LINK BACK TO THE ARTICLE in the case of re-publication on online media,
(b) Proper referencing in the case of usage in research, magazine, brochure, or academic purposes,.
.
All contents are protected by the Digital Millennium Copyright Act 1996 (DMCA).
The images, except where otherwise indicated, are taken directly from the web, if some images were inserted by mistake violating the copyright, please contact the administrator for immediate removal.
.
We publish all content with good intentions. If you own this content & believe your copyright was violated or infringed, please contact us at [info@cyber.ng] for immediate removal.
About Post Author