The crave for natural, organic and tasty foods in Nigeria is only natural; it takes you on a short journey. As short as your little finger. Our closeness to Nature from time immemorial has furnished Nigeria with some of the best organic foods and soup accompaniments you can ever think of and even relish.
You can get the raw ingredients easily in the marketplace, for added advantage. And we can boast of Nigerian superchefs too – both male and female! So – let's explore the 10 most popular foods in Nigeria you cannot afford to miss.
Àmàlà/Elubo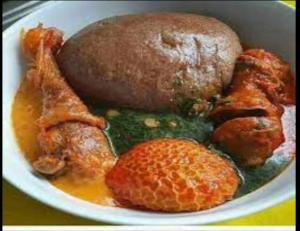 Amala is a popular brownish swallow meal popular amongst Yorubas in southeast Nigeria. Sometimes called elubo, it is made out of yam flour, cassava flour, or unripe plantain flour. The flour itself is made out of the raw, peeled and dried food from which it is sourced. It is thereafter ground into smooth flour.
Also Read- Top 10 Online Shopping Sites in Nigeria
To cook it requires continuous turning and steaming in boiled water, without removing it from the fire. It is quite fast to prepare, and it comes out fluffy. What's particularly appealing about this meal is the ease with which the stomach quickly digests it.
Amala can be taken with a host of native soups and stews such as efo (spinach), ogbono (pumpkin seeds), ewedu (jute), ugwu (pumpkin leaves), gbegiri (runny beans soup), groundnut soup and more. It is customary amongst the Ibadan and Oyo people of Osun state where the food originated from, to eat it with ewedu and gbegiri.
Plantain

Plantains are the bigger, more starchy and less moist versions of the common banana fruit. It is a highly nutritious food found in tropical regions, rich in fiber and multivitamins. Both plantains and bananas are known to be naturally sweet in taste, though the sweetness of plantain is a bit less pronounced especially while still unripe. Ripe plantain can be as sweet as bananas, even sweeter. This delicious fruit can be boiled, steamed, roasted, fried or baked. Typical accompaniments taken with cooked plantain include fried eggs, vegetable stew, pepper stew, fried or roasted fish, and roasted groundnuts. It may be taken with cooked rice or beans as well.
Iyan (Pounded yam)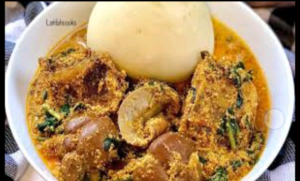 Pounded yam or 'Iyan' (Yoruba name) is a fluffy meal made out of boiled or steamed yam (or even cocoyam). It is then pounded inside a pestle and mortar. This super palatable swallow meal originated from amongst the southwest, southeast, Middle Belt and Niger Delta cultures of Nigeria where yam is commonly grown. The Yoruba, Igbo, Niger Delta people, Tiv, Igbira have grown and consumed yam as a staple food for centuries.
Modern methods of preparing pounded yam may include the use of a yam pounder machine, or food processor. In the absence of this, you can also blend raw yam and water, then steam and turn the mixture on fire till it is well cooked. It is also rich in vitamins and minerals, though it is predominantly a carbohydrate.
Pounded yam tastes so good when eaten with a rich soup. Common accompaniments include egusi (melon seed) stew, vegetable stews of all kinds, groundnut stew, and ogbono stew.
Jollof rice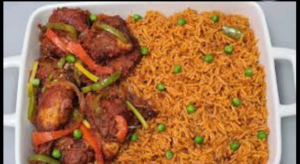 Jollof rice is a signature food of West Africa, not just Nigeria alone. It originated from amongst the Wolof (or Jolof) people, native cultivators of rice who dwelt in Gambia, Senegal and Mauritania. And it came from way back in the 14th Century. But today, the food has gained prominence in Ghana, Nigerian, Liberia, Sierra Leone and Cameroon.
Jollof rice is rice cooked/simmered in a blend of peppers, tomatoes, onions and vegetable oil, with enough spices. The aroma is so tantalizing. It has become a popular party meal often garnished with fried plantain, salad/coleslaw, peas, carrots, bell peppers, and animal protein (meat/fish/eggs).
Porridge/Pottage

Porridge, or Asaro as it is popularly called among the Yorubas, is a rich and common Nigerian food. It is typically made out of any of the following carbohydrate foods as the base: yam, cocoyam, unripe plantain, potatoes, or corn. But porridge is normally cooked with adequate palm oil, pepper, onions and seasoning until soft.
Optionally you may add tomatoes, chopped vegetables, beans, meat and/or fish. Some cooks even fry pepper stew separately, or add fried plantain to serve with the main meal. In any case, the meal is super-rich and tasty.
Nkwobi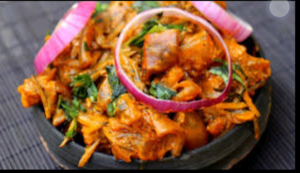 Nkwobi is a popular food native to the Igbo people of southeast Nigeria. The dish is made by cooking de-hoofed cow leg in a rich, thick and spicy sauce. Alternatively (or in combination), it may also be cooked with chicken, cow tail and goat meat. Sometimes this dish is confused with Isi Ewu (goat head) but they are not the same.
The typical ingredients of Nkwobi include palm oil, salt and seasoning, Ugba (fermented oil beans), utazi leaves, chopped onions, cameroon (or scotch bonnet) peppers, edible potash, ground ginger and garlic. It can be served as a party meal, at home or in restaurants (and it can be quite expensive).
Àkàrà (Fried bean cakes/fritters)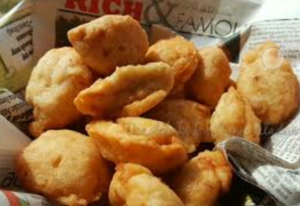 Bean cakes or akara is both a popular street food as well as a delicacy in many Nigerian homes. It originated from among the Yorubas of the southwestern part of Nigeria. Sumptuous and easy to prepare, it is made out of peeled beans which are then blended and deep-fried. You have the option of using either vegetable/groundnut oil or palm oil to fry them.
The basic ingredients for this tasty food/snack are cooking oil, peeled beans, salt, ground (or blended) pepper, and chopped/sliced onions. But you may experiment also with the following additives: crayfish, ground ginger and/or garlic, and seasoning.
Tuwo (Rice or corn meal/swallow)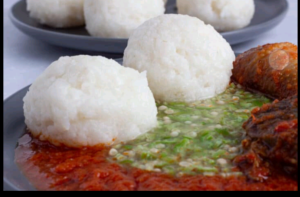 Tuwo is a fairly common Nigerian food made out of either soft-cooked rice, ground dry rice, millet or white corn/maize flour. It is a hugely popular swallow meal in Northern Nigeria. When cooked rice is used, the rice is cooked till soft (but not too watery), then mashed and molded into balls. Otherwise the ground rice or ground maize flour is steamed and turned in a moderate amount of boiling water – the typical way a lot of swallow foods are being made. The flour is usually mixed with a little water to form a thick paste before steaming it. However, the flour may also be added directly to the boiling water and turned repeatedly until smooth.
Tuwo can be served with a host of local stews and soups such as pumpkin soup, groundnut soup, runny beans (gbegiri) soup or any other one as desired.
Pepper soup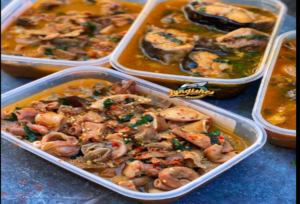 Pepper soup is a hot, flavourful and watery soup widely known and eaten in West Africa, but is very popular in NIgeria. It is normally taken as a side dish at party gatherings or relaxation centers, accompanied with beer or palm wine.
The basic ingredients are animal protein (varieties of meat and/or fish); chilli, cameroon and/or sweet peppers; blended pepper soup spices; and african nutmeg (Niger Delta: erhe). Additional ingredients needed may include onion, garlic, ginger, cloves, green onions, cinnamon, lemongrass and lime juice.
The pepper soup spices are a blend of two or more native spices which include alligator pepper, gbafilo (rough-skinned plum), umilo (cocoplum) and urheri (grains of Selim).
Pepper soup is strongly believed to be medicial. In native settings, it is usually recommended for nursing mothers and persons recovering from an illness.
Moin-moin/Ekuru

Moin-moin and Ekuru/Ofuloju (or beans puddling) are steamed versions of akara. Both of them are also indigenous to the southwestern Yoruba tribe of Nigeria. Moin-moin has become a meal of national importance as we speak, being a common accompaniment of party dishes such as fried rice or jollof rice.
Both moin-moin and ekuru are also made out of peeled and blended beans, but a bit more watery. The watery paste is scooped into small containers and placed in a fairly large pot or even an oven. They are then covered and cooked by steaming or baking. Special leaves (Yoruba: ewe eran; or banana leaves),nylon wraps, aluminum foil, plastic containers, baking pans or aluminum bowls may be used as the containers.
The major difference between moin-moin and ekuru is that moin-moin is cooked with oil and all its ingredients mixed in at once. Whereas ekuru contains no oil. Ekuru is cooked as plain blended beans – a separate stew would be made to accompany it.
Typical ingredients to add in moin-moin include pepper, onions, salt and seasoning. Optionally you can add blended crayfish, boiled eggs, steamed (or smoked) fish, minced meat, ground ginger and garlic, or even chopped vegetables.
COPYRIGHT WARNING!
You may not republish, reproduce, or redistribute any content on this website either in whole or in part without due permission or acknowledgment.
.
Proper acknowledgment includes, but not limited to;
(a) LINK BACK TO THE ARTICLE in the case of re-publication on online media,
(b) Proper referencing in the case of usage in research, magazine, brochure, or academic purposes,.
.
All contents are protected by the Digital Millennium Copyright Act 1996 (DMCA).
The images, except where otherwise indicated, are taken directly from the web, if some images were inserted by mistake violating the copyright, please contact the administrator for immediate removal.
.
We publish all content with good intentions. If you own this content & believe your copyright was violated or infringed, please contact us at [info@cyber.ng] for immediate removal.
About Post Author