Nigeria, the towering giant of West Africa is a land of discovery. An amazing landscape awaits any explorer bent on finding some of the most amazing treasures of the country – Nigeria's natural wonders. There is an abundance of awe-inspiring installments of Nature in this spectacular country, as we shall soon see.
Nigeria's Natural Wonders: An Overview of the Landscape
Nigeria is strategically positioned on the west coast of Africa, too vivid and blessed to be hidden. Right from the vast coastline that stretches all the way from the southwest to the south-south up to 853 kilometers. From the north to the south of the country, bands of vegetation move through the Sahel, Sudan, and Guinea savannahs. Then it bursts into the rain forests and terminates in the mangrove swamps bordering the lagoons that lead into the Atlantic ocean. 
Interspersed with this interesting variation of plant cover are amazing rivers, valleys, highlands, plateaus, waterfalls and rock formations. They are definitely not lacking in lush animal diversity. Most of them are practically out of this world. 
Also Read- The Importance of Agriculture in Nigeria's Economy: Challenges and Opportunities
An Expose of Nigeria's Natural Wonders
Here is a quick mention of some of Nigeria's natural wonders that are well known. As time and space would not permit us to cover it all, we would venture to describe just 7 of the most popular ones in brief detail. They are indicated with asterisks:
Zuma Rock, Niger

Aso Rock, Abuja

Olumo Rock, Abeokuta **

Idanre Hills, Ondo **

Riyom Rock, Plateau

Mambila Plateau & Chappal Wadi Mountain, Plateau (where Gashaka Gumti National Park is found)

Obudu Mountain Resort **

Rivers Niger & Benue Confluence, Kogi **

Farin Ruwa Waterfalls, Nasarawa

Agbokim Waterfalls, Cross River

Kwa Waterfalls, Cross River

Erin Ijesha Waterfalls, Osun

Gurara Waterfalls, Niger

Owu Waterfalls, Kwara

Ado-Awaye Suspended Lake, Oyo

Oguta Lake, Imo 

Azumini Blue River, Abia

Yankari National Park & Wikki Warm Springs, Bauchi **

Okomu Wildlife Sanctuary

Lẹkki Conservation Center, Lagos

Cross River National Park

Kanji National Park, Kwara & Niger

Ngwo Pine Forest, Enugu

Ikogosi Warm and Cold Springs, Ekiti **

Awhum Cave, Enugu

Ogba Okwu Caves & Waterfalls, Anambra **

Ogbunike Caves, Anambra
Olumo Rock, Abeokuta
Olumo Rock is a granite mountain standing at 137 metres above sea level in Abeokuta, a city in southwest Ogun state. It served as a natural fortress, providing succour and a hideout to the Egba indigenes during the Egba-Ibadan tribal wars of the 19th Century. The rock also assisted Egba warriors against the Dahomey kingdom. Olumo is practically revered as a god, and sacrifices are offered under it. It has since been transformed into a hugely popular tourist destination. 
Idanre Hills, Ondo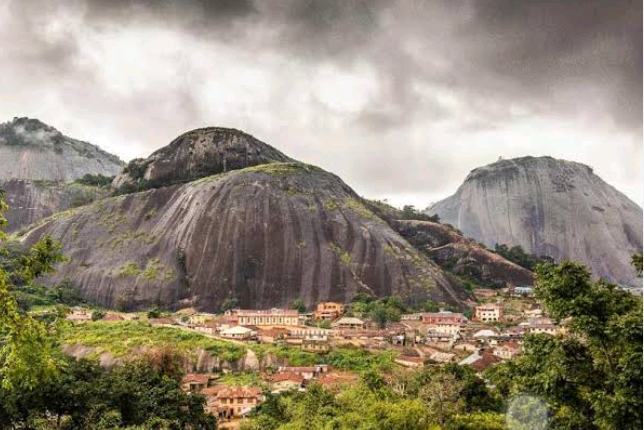 Idanre Hills is an ancient, rugged and inhabited landscape full of mountains, a high plain and and valleys. It is located in southwest Ondo state. The mountains are about 914.4 kilometers above sea level. The wildlife (both flora and fauna) is very diverse and well preserved. In fact, it is one of the few places where free roaming elephants are still found in West Africa. 
There are numerous ancient relics on the mountains. They include Agbaogun's footprints (Agbaogun is an ancient settler, the founder of Idanre town), and a set of 666 staircases leading up to the pinnacle of the mountains. There are also shrines, a belfry, thunder water (Omi Aopara), Owa's Palace, unreadable signs, an Old Court and burial mounds there. 
Obudu Mountain Resort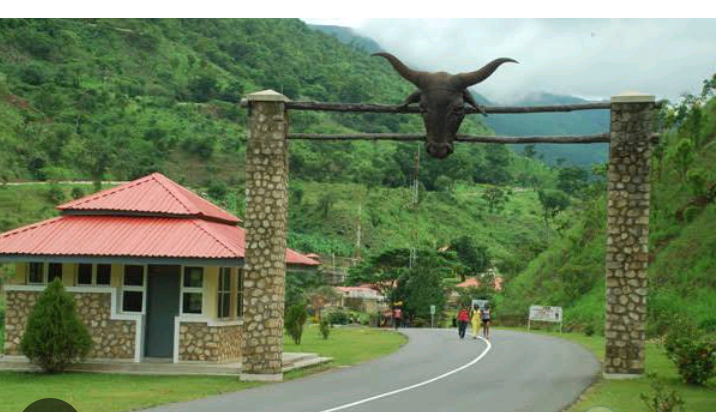 Obudu Mountain Resort is built on a plateau atop the Sankwala mountains, surrounded with thick rain forest, in Cross River state. At 1,576 kilometers above sea level, the temperature at the peak is very cool, and the environment very serene. A view of the horizon and surrounding landscape is so captivating. There are also top-notch recreational facilities ìn the resort.
Rivers Niger & Benue Confluence, Kogi
River Niger (brown river) and River Benue (green river) are the two largest rivers in West Africa. Flowing from the northwest and northeast of the country respectively, they form a confluence at Lokoja in Kogi state. The waters leads further down into a vast network of water channels in the Niger Delta and eventually into the Atlantic ocean. 
An aerial view of the confluence is even more beautiful than exploring it from the ground. There are ferry and boat services available around the confluence for eager tourists. Fishing activities are also quite common at that location.
Yankari National Park & Wikki Warm Springs, Bauchi
At 2,254 square kilometers in area, Yankari Game Reserve in northeast Bauchi state is the largest wildlife sanctuary in Nigeria. It has a collection of some of the most endangered species of animals in Nigeria. The largest single herd of elephants in West Africa (about 150 in population) are kept there. As well as the endangered West African lion. Several other animals such as the hippopotamus, buffalo, antelopes, giraffes, baboons and crocodiles. are also found there. 
Sorrounding all these is a large diversity of plant life. The vegetation is a mixture of savanna grasslands, thick bushes, and swamps in river floodplains. There is also the Wikki warm springs located right inside the park. It was upgraded from a game reserve to a national park in 1991. 
Ikogosi Warm and Cold Springs, Ekiti
The awesome warm and cold springs are located in Ikogosi, a town in Ekiti state of southwest Nigeria. Both of them issue forth from the top of a hill, but flowing from different points. They run parallel to one another and eventually meet at the bottom. The warm spring is around 70 degrees Celsius at its source, and 37 degrees Celsius at the confluence below. The cold spring retains a much lower temperature. 
Ogba Okwu Caves & Waterfalls Anambra state
Ogba Okwu cave is reputed to be the largest cave in West Africa. Located in the southeast state of Anambra, it showcases several large compartments that could take up an entire village. There are ancient relics inside it to show that one time or another in the distant past, it was inhabited. 
A local lore speaks of a certain person described as the god of Owerre-Ezukala (the host town where the cave is found). The claim has it that he lived in the largest of the compartments right at the center of the cave. You will need at least two hours to explore its interiors. There is also a waterfall and a gigantic dome there. 
COPYRIGHT WARNING!
You may not republish, reproduce, or redistribute any content on this website either in whole or in part without due permission or acknowledgment.
.
Proper acknowledgment includes, but not limited to;
(a) LINK BACK TO THE ARTICLE in the case of re-publication on online media,
(b) Proper referencing in the case of usage in research, magazine, brochure, or academic purposes,.
.
All contents are protected by the Digital Millennium Copyright Act 1996 (DMCA).
The images, except where otherwise indicated, are taken directly from the web, if some images were inserted by mistake violating the copyright, please contact the administrator for immediate removal.
.
We publish all content with good intentions. If you own this content & believe your copyright was violated or infringed, please contact us at [info@cyber.ng] for immediate removal.
About Post Author