The advancing digital revolution birthed by internet connectivity worldwide, came with both huge blessings and challenges. This is particularly clear in the impact of social media on Nigerian youths. Whilst it is true that social media apps have become huge commercial, networking and learning gateways, there is a caveat. We must tread with caution.
Social Media: The Definition
Maya Dollarhide in her April 2023 online publication titled 'Social Media: Definition, Effects and List of Top apps' gave a sharply on-point definition of social media thus
"Social media is a digital technology that facilitates the sharing of text and multimedia through virtual networks and communities."
Social media is specifically a collection of internet-based software that allow information sharing and networking between diverse individuals across the world. These individuals form online communities, discussion groups and one-on-one engagements in which members are assumed to have fairly similar interests. 
The speed and ease with which all kinds of content are created and shared between people on social media makes it a super-highway of communication. Similarly the quick, almost spontaneous feedback one can get from others on social media makes it a valuable fact and news gathering tool. 
The Scope and Usage of Social Media
Worldwide Statistics 
The chart below outlines the top 15 most popular social media platforms across the world in terms of registered users. The figures (in millions) were obtained as of January 2023. The results are fairly astonishing, as we would encounter apps that appear not so familiar. But such apps have huge patronage in certain regions of the world (for instance, in Asian climes).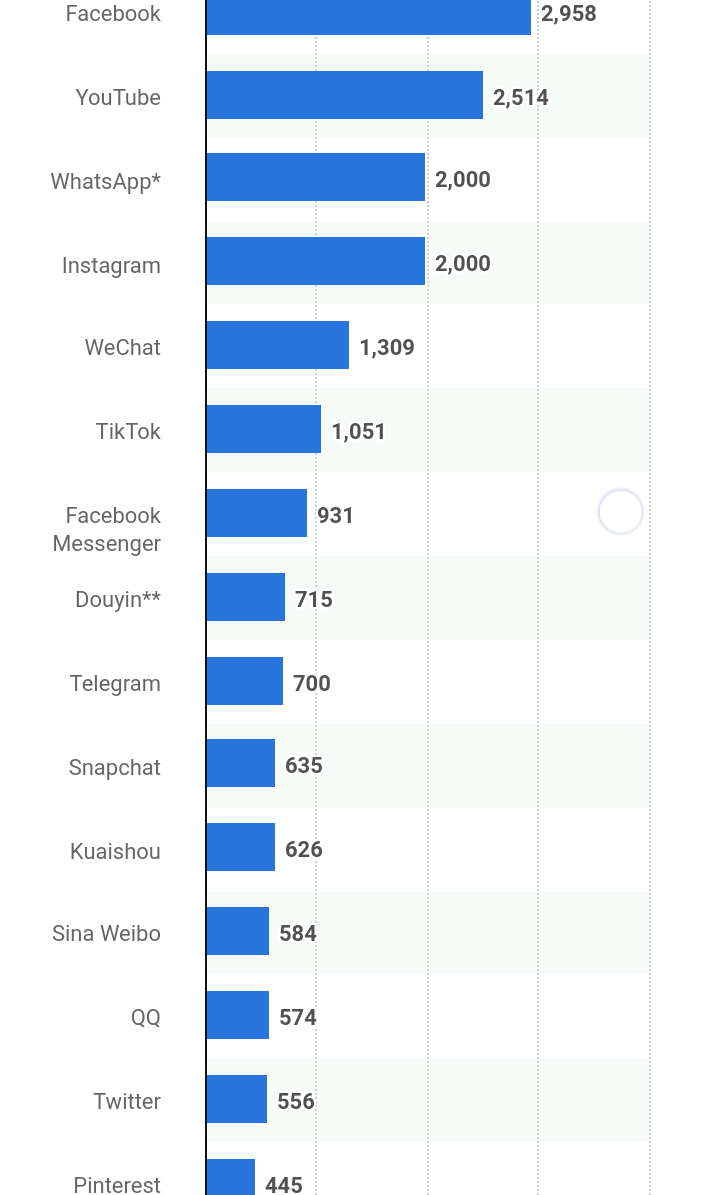 Source: Statista website
Facebook remains the top social media app – with an estimated 2,958,000,000 (or 2.958 billion) users worldwide and still growing. YouTube, WhatsApp, Instagram, WeChat and TikTok rank from second to fifth places. The video and diverse multimedia capabilities in these five apps are too good to ignore, though they have their faults. 
One could also argue that WhatsApp, Telegram and Facebook Messenger were originally not intended to be traditional social media apps. But the valuable embedded communication and marketing tools in these three instant chatting apps, with their speed of operation, are awesome. Little wonder they have attracted so much patronage. 
Nigeria Statistics
The NapoleonCat statistical website reports that as of June 2023, Facebook, Instagram, Facebook Messenger and LinkedIn are the top four social media apps in Nigeria. See the chart below for clarification.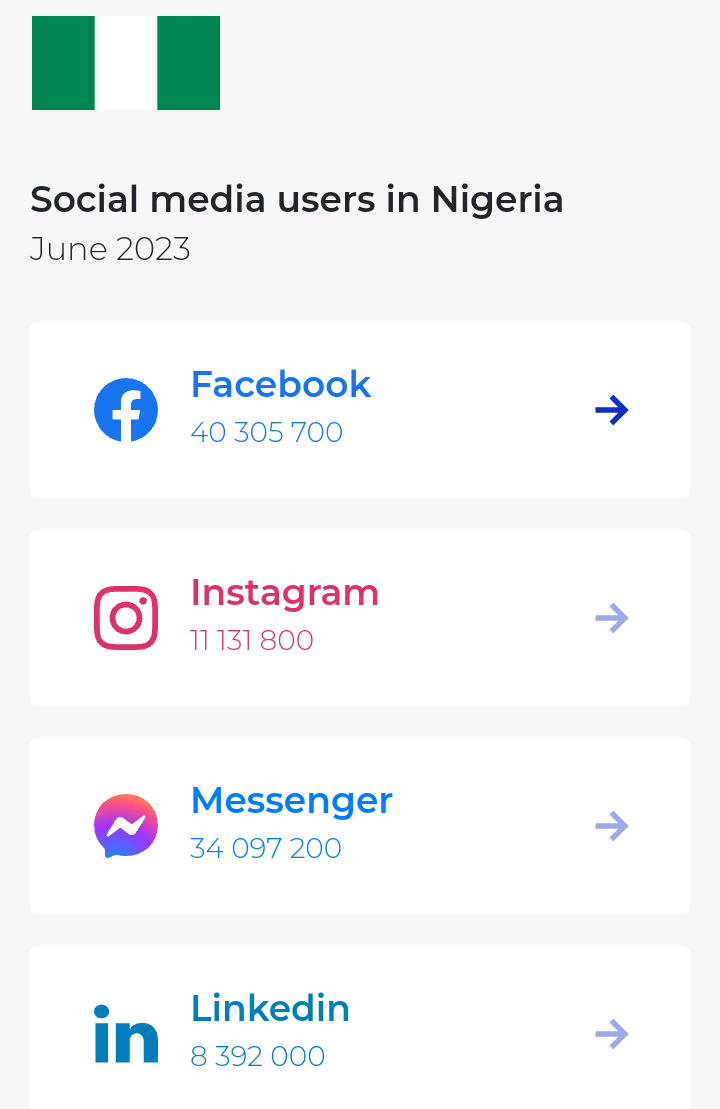 If we include all the popular social media apps in Nigeria not shown in the diagram above, the figures would be staggering. We are also aware that Twitter, TikTok, Snapchat, YouTube, and WhatsApp have huge followership amongst Nigerian youths. 
These platforms have given them an avenue of expression and hope in the midst of numerous social and economic challenges. 
Examining the Impact of Social Media in Nigerian Youths: Pros And Cons
To be candid, a significant amount of time people of all ages spend on the internet, are actually on social media. That is where all the fun resides. And lately – that is also WHERE MOST OF THE MONEY FLOWS. If carefully worked on, social media can become a gold mine – bringing in huge profits from a string of leads and engagements.  
Moreso the youths, who form the largest percentage of active workers and students worldwide – are constantly seeking information and connections on social media. 
The youths we refer to here are people who generally fall within the age bracket defined by the African Youth Charter. These are the active population of people between the ages of 15 and 35. From the foregoing, the impact of social media on Nigerian youths is implicitly huge.
Positive Impact of Social Media on Nigerian Youths 
The impact of social media on Nigerian youths are both positive and negative. On the positive end:
1. Social media has provided various channels to keep Nigerian youths well informed and up-to-date about happenings and opportunities. Both within and beyond the country. And there are authoritative sources to verify these facts from. Such sources include:
Government records

NGOs

Global unions

Established business corporations

Respected learning institutions

Research institutes

Trustworthy media outlets  
The fact that there are multiple reliable sources to confirm the same item of information from, helps to check its credibility. Nigerian youths have thus discovered opportunities for foreign and local financial aid, as well as the best foreign and local schools. They have also found the latest technology, valuable social trends, lifestyle improvement tips and more. 
2. So many unemployed Nigerian youths have found great relief from social media. Either they discovered job opportunities, or meaningful money-making ventures, or even put their creativity and marketing skills to work and got rewarded. Now there is a proliferation of skit makers, digital marketers, content creators, performing artists, influencers and various creatives. They are all over Nigerian social media (and beyond). They have gained massive revenue with the help of social media tools for marketing, networking and self-promotion. T
3. There are endless opportunities for learning and self-improvement on social media. So many educational and professional social media pages are now available for Nigerian youths (with their official website links embedded). Thus offering multiple learning resources both practical and theoretical. Youths can now embark on further schooling and/or vocational training to get reputable academic and professional certifications (free and paid). There are also modern workplace productivity tools made available by well-meaning organizations on social media to enhance your career.
4. Social media has become the 'voice' of the Nigerian youths at large. Rather than stage violent, life-threatening protests against bad governance or wrongdoings in public space, social media has become a tool for social criticism. People effectively exhort each other and demand accountability from one another, and from civil authorities, through these channels. Thus Nigerian youths can now participate in governance their own way through social media.
5. By extension, it is quick and effective to expose crimes and unethical practices of certain members of the public through social media. Because virtually every Nigerian owns at least one social media account, and carries his/her smartphone around with him/her. If anything goes wrong anywhere across Nigeria, the information will spread like wildfire across social media within minutes. It will do so until it reaches the right people with the authority and/or legal means to deal with the issue TV appropriately.
Negative Impact of Social Media on Nigerian Youths
However, we are also fully aware of the dangers of social media. The negative impact of social media on Nigerian youths have equally been identified – albeit, in a bid to effectively stem it. For instance:
1. Security of personal data on social media is not guaranteed. There is simply no privacy on social media. Social media has practically become public space, and so many youths flagrantly ignore this. The temptation to expose their sensitive personal information, home interiors, workspaces, weaknesses, nudity etc. has gotten to shocking levels. The long-term effect is for such youths to get trapped or trailed by criminal-minded persons. Hackers and scammers may hack their accounts to get those details, and thereafter blackmail them in order to extort money. Or even rob their bank accounts (and other investments – such as retirement and crypto accounts). It is even more dangerous when such sensitive personal information falls in the hands of kidnappers, armed robbers and hitmen.
2. There are criminals on the prowl for unsuspecting victims on social media – again with more emphasis. Even when one's personal information is not foolishly exposed on social media. Nigerian youths (and the public at large) need to be extra vigilant. There are now numerous cases of youths who get friendly with strangers on social media – and end up regretting it. Youths have been lured through social media into cults, kidnapper dens, human trafficking, and ritualist hideouts. Or their identities were stolen and used by criminals, who made them suffer for wrongs they know nothing about. The spate of ritual killings, rape, missing persons, victims of voodoo and scam networks (aka 'Yahoo Plus') in recent times is very alarming.
3. Social media has become the 'rumour mill' and 'gossip vine' where defamation and fake news reign supreme. So many people have had their public image badly smeared and/or damaged with unconfirmed, bad rumours. Whether the rumours are confirmed true or not, the verbal attacks and rejection that follow can be so damaging. With a damaged reputation comes possible significant losses at home, work or business; as well as attendant mental health problems.
4. Nigerian youths need to beware of the 'copycat' syndrome, and leading fake lives. Many youths seek to imitate their favorite celebrities in dressing, habits, and ideology no matter how unethical it may appear. Whereas some of these celebrities and influencers have their own private problems they hide away with cosmetic dressing. Youths even want to 'live large' like their seemingly-rich social media heroes, without questioning their true source of wealth or fame. That habit has led many youths down the rabbit hole of indecent dressing and talk, crime, abuses and addictions.
5. Seeking validation on social media is the undoing of many Nigerian youths. They desperately want more cheap popularity and social acceptance. And they would do anything to attract attention to that end. Such youths abandon the need for self-development in order to promote a fake image of who they are. But they end up never satisfied with the result. One way or the other, this contributes to low self-esteem and a badly affected mental health.
It is therefore vital for Nigerian youths to become well-informed of the traps lurking around social media in order to avoid them. On his note, we encourage Nigerian youths and parents, guardians, NGOs, schools, and concerned members of the adult public to be responsible. Let us carefully direct and inform our Nigerian youths to focus more on the healthy uses of social media and the internet. Work, watch and pray. 
COPYRIGHT WARNING!
You may not republish, reproduce, or redistribute any content on this website either in whole or in part without due permission or acknowledgment.
.
Proper acknowledgment includes, but not limited to;
(a) LINK BACK TO THE ARTICLE in the case of re-publication on online media,
(b) Proper referencing in the case of usage in research, magazine, brochure, or academic purposes,.
.
All contents are protected by the Digital Millennium Copyright Act 1996 (DMCA).
The images, except where otherwise indicated, are taken directly from the web, if some images were inserted by mistake violating the copyright, please contact the administrator for immediate removal.
.
We publish all content with good intentions. If you own this content & believe your copyright was violated or infringed, please contact us at [info@cyber.ng] for immediate removal.
About Post Author