Nigeria is naturally privileged to be one of the top tourist destinations in Africa. The country's landscape from North to South is dotted with a vast collection of natural and cultural heritage sites that are awe-inspiring. We would probably lose count of them if we try. That includes largely unexplored tourist attractions in Nigeria. 
For many years, there have been concerns about how the tourism industry did not receive enough support from the Nigerian government. The exaggerated focus on crude oil exploration and export has eclipsed development in other revenue-generating sectors of the economy. Notable amongst them are agriculture, other mineral resources, and tourism. 
It is on record that there are nations across the world that generate massive amounts of revenue from tourism alone. Maldives, the Bahamas, Dubai, Kenya, Seychelles, Malta, and British Virgin Islands are a few clear examples. If Nigeria should embark on a journey to tour the same course as these islands and countries, the potentials are huge. 
The largely unexplored tourist attractions in Nigeria alone are too interesting to ignore. And the more popular tourist destinations in the country are already drawing millions of tourists and huge earnings to their host states every year. All it requires is more government and private sector involvement to maintain and oversee these curious destinations, as they are already gold mines.
Here in this article, we bring to you the lesser-known and largely unexplored tourist attractions in Nigeria. To conserve time, we will discuss just 10 of the most fascinating ones. See the list below.
Amazing Tourist Attractions in Nigeria
The Nok Village, Kaduna State**

Alok Ikom Monoliths, Cross River State**

Bilikisu Sungbo Shrine, Ogun State**

Owu Waterfalls, Kwara State**

Jos Wildlife Park**

River Ethiope (and Abraka Turf and Country Club Resort)**

Gashaka-Gumti National Park**

Katsina Gobarau Minaret**

Juju Rock Formation, Niger State**

Assop Waterfalls, Plateau state**

Azumini Blue River, Abia State

Porto Golf Resort, Kano

Marshal Caves, Bauchi state

Ile-Ìfẹ town, Osun state

Dumi Hills, Bauchi state

Pategi Beach, Kwara State

Agbele Rock Formation
The Nok Village, Kaduna State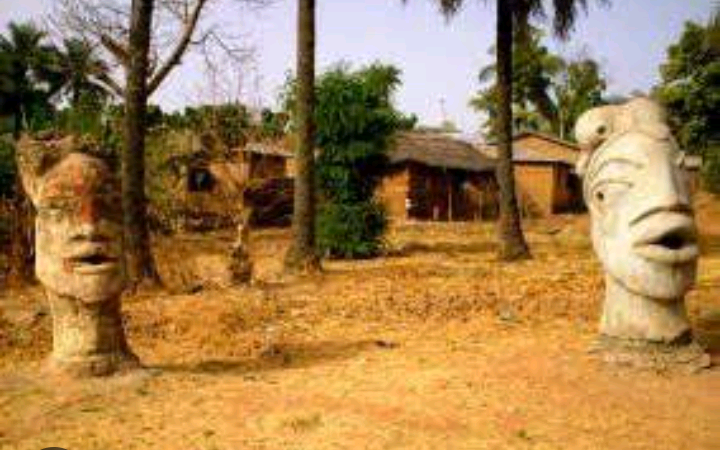 The Nok village in Jaba LGA, Kaduna State is an ancient archeological site. The site in ancient times belonged to the Nok people that inhabited the area between 1500 B.C. and 500 A.D. The Nok people specialized in iron smelting (evidenced by iron-smelting furnaces on the location) and making of terracotta figurines. These figurines were huge, with a peculiar appearance that was common to all of them. Weapons, stone tools, and rock paintings were also found in the area. 
Alok Ikom Stone Monoliths, Cross River State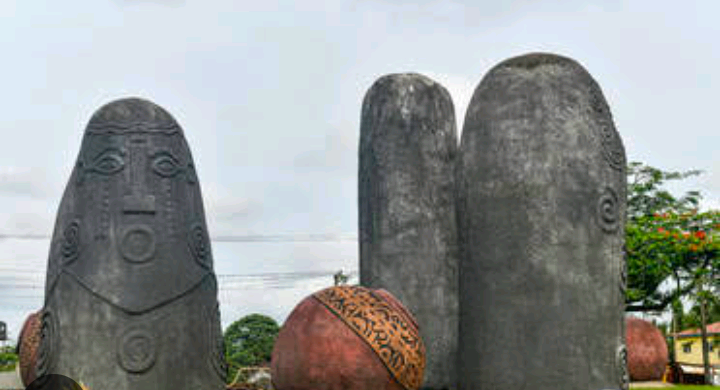 These monoliths are phallus-shaped stone formations arranged in circles and standing erect, facing each other. They are distributed across over thirty communities in Cross River State. These stones were carved out of either basalt, sandstone limestone; and each of them about 3 to 5 ½ feet in height. 
The carvings on them depicted human features such as eyes, hands, nose, pointed beards, a head topped with rings, and facial marks. The geometric inscriptions on these stones showed that their creators were beings with advanced knowledge of mathematics and specialized language coding methods. 
Bilikisu Sungbo Shrine, Ogun State
Local legend has it that Bilikisu Sungbo was an Ethiopian queen, an ardent worshiper of a deity in the area of Sungbo (in Ijebu Ode) who came regularly to worship there. Subsequently, the famed queen died at the shrine, and the Eredo (a system of built walls and ditches surrounding the area) was built around her grave to honour her. The Eredo was built between 800 and 1000 AD. 
The Ijebu natives claim that Bilikisu Sungbo was the same Queen Sheba that visited King Solomon, mentioned in both the Bible and Quran. The Quran further described her as an Ethiopian sun worshiper, wealthy trader in incense, and an expert in pottery making who converted to Islam. Hence her name 'Bilqis'. 
Owu Waterfalls, Kwara state
The Ọwu waterfall is the highest waterfall in West Africa, pouring from a height of 120 meters above the water level. It is located in Owa Kajola area in Kwara State. It flows down rocky outcrops across a distance of about 330 metres to release the water into an ice-cold pool below. The reason for the cold water is yet to be identified. 
Jos Wildlife Park, Plateau State
The Jos Wildlife Park in Plateau State is one of the largest natural and man-made nature parks in Nigeria. It was set up in 1972. It has a huge variety of animal and plant life ranging from carnivores, birds, to herbivores and diverse savannah plant species.
River Ethiope (and the Abraka Turf and Country Club Resort)
The Abraka Country Resort is located in Abraka, Delta State, surrounded by thick rainforest. It is positioned on the banks of river Ethiope, and has its own sandy beach available for loungers. There is a restaurant and bar to provide tasty meals and drinks. Canoes are made available to ride up the river. Table tennis and volleyball courts are also available for sport-loving visitors, who also have access to good accommodation on the premises. 
Gashaka-Gumti National Park
The Gashaka-Gumti National park is the largest national park in Nigeria, and was created out of two game reserves in 1991. It covers 6,402 square kilometers in area. The vegetation ranges from Savannah grassland to the north to rocky, steep slopes, deep valleys and gorges to the South, interspersed with Montane forests. It is found in the eastern provinces of both Adamawa and Taraba states, sharing the border with Cameroon. 
The river Benue flows through the area and so it is well supplied with water. Also, the highest mountain in Nigeria, the Chappal Waddi (standing at a height of 2,419 meters) is located in the southern region of the national park. 
Katsina Gobarau Minaret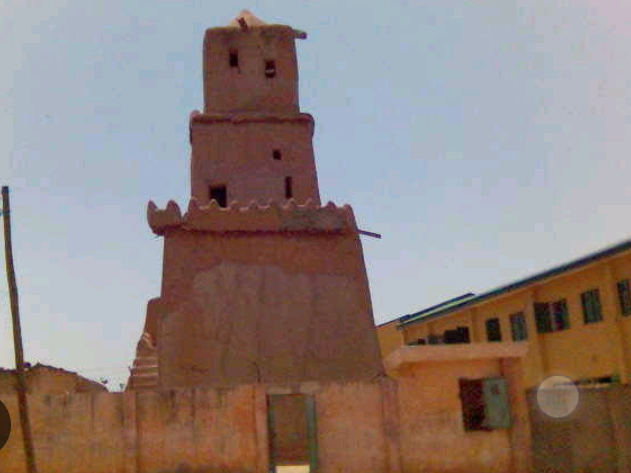 The Gobarau is a 15-meter tall minaret located in the center of Katsina city in Katsina state. Katsina was a theological center for Moslems at the time it was built. The minaret is part of a mosque built in the 15th century by Mohammed Korau – the first Moslem ruler of Katsina. The Islamic scholar, Sheikh Muhammad Abdulkarim Almaghili from Algeria, was a strong influence that contributed to building the Gobarau mosque. 
The Gobarau grew to become a revered Islamic school of higher education and Katsina's central mosque. That was until the 19th century A.D. when a new mosque was built. 
Juju Rock Formation, Kwara State
Juju Rock is a huge granite island-hill formation in the river Niger off the town of Jebba in Kwara state. Jebba town shares a border with Niger state. Another similar rock formation is located within the area, not too far from the same river bank. The rock is famed to have caused fear in the hearts of explorers back then, including Mungo Park. Mungo park was shipwrecked at the foot of Juju rock in 1857. From the foot of the rock, one could see wild monkeys, rodents and birds all over the place. 
Assop Waterfalls, Plateau state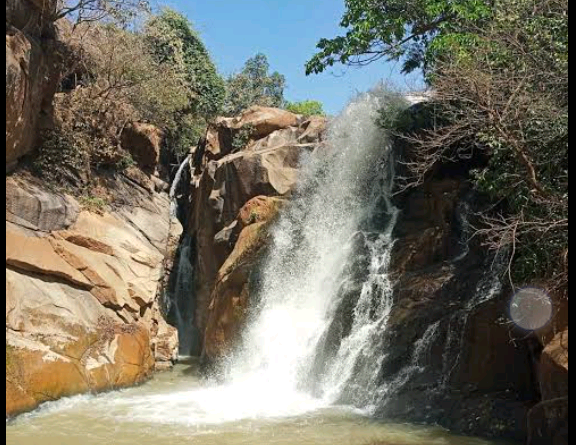 Assop falls is located 70 km along Jos-Kagoro road at the base of the Jos plateau. Its source is the Assop river; and the waterfall pours down from the bottom of a rough, rocky hill known as Hawan Kibo. The area is surrounded by Guinea Savannah grasslands interspersed with forests. 
COPYRIGHT WARNING!
You may not republish, reproduce, or redistribute any content on this website either in whole or in part without due permission or acknowledgment.
.
Proper acknowledgment includes, but not limited to;
(a) LINK BACK TO THE ARTICLE in the case of re-publication on online media,
(b) Proper referencing in the case of usage in research, magazine, brochure, or academic purposes,.
.
All contents are protected by the Digital Millennium Copyright Act 1996 (DMCA).
The images, except where otherwise indicated, are taken directly from the web, if some images were inserted by mistake violating the copyright, please contact the administrator for immediate removal.
.
We publish all content with good intentions. If you own this content & believe your copyright was violated or infringed, please contact us at [info@cyber.ng] for immediate removal.
About Post Author