Restless days of office and business work should not deprive you of a quality, nutritious meal. If you desire healthy, nutritious Nigerian dinner recipes that are easy to make after a hard day's work, we are glad to help you out. Remember that after your breakfast (which you are recommended not to skip), your dinner is the next sacred meal of the day. And better still, a good dinner should be nutritious and equally not heavy – you need to cut down the carbs. 
It is highly recommended that evening meals be prepared with moderate amounts of carbohydrates, plenty of proteins, moderate fat, enough fiber and multivitamins. A good helping of fresh fruits and veggies can supply your body with enough multivitamins. And quality protein can do a lot of magic repair to your body, by the time you sleep. Couple that with fiber and enough fluid/water, your bowels will thank you.
Take note that heavy carbohydrate intake at night can lead to constipation and indigestion. Your alimentary canal may end up not digesting the food well. Another dysfunctional headache resulting from consuming heavy carbs, especially at night, is a likely spike in sugar levels in the blood. This of course is a serious risk factor leading to diabetes – I'm sure you want to avoid that. 
I'm glad to tell you that we have so many nutritious Nigerian meals that would please your palate anyday. And a good number of them are quite easy to make. Here we have collated  5 easy and healthy Nigerian dinner recipe ideas from amongst them that would satisfy your cravings. Get your plates ready. It's going to be a tasty journey. 
The Almighty Porridge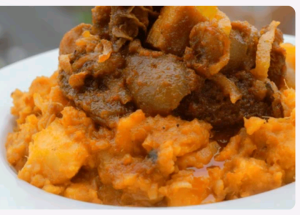 One of the tastiest, richest meals you can find in Nigeria is – and I mean it – the Almighty Porridge!! And it comes in a number of varieties that are all easy to make. The basic ingredient of the Nigerian porridge is a rich carbohydrate food: yam, potato, unripe plantain, cocoyam, or maize. Boil that with a good helping of beans – that's common and quite nutritious (though beans are optional). For flavour, you simply add seasoning, salt, palm oil, onions and pepper. You may also add shredded spinach, ground crayfish, smoked fish, and meat, according to your taste. The resulting mix will take you to heaven and back!!
Also Read- 10 Most Popular Foods in Nigeria
Ah, Amala……!!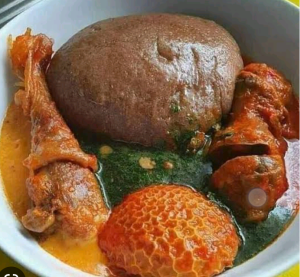 Have you EVER tasted the steamed cassava or yam flour called amala? It is prepared by turning/kneading the flour in just enough boiling water with a strong spatula, until smooth. The easy-to-digest, fluffy meal feels so relaxing in the stomach, if well mixed. And it is quite easy to prepare. The only extra you need is a rich soup; though it does not have to be expensive. This traditional meal of the Yoruba people typically goes well with blended bean soup (gbegiri) and jute soup (Ewedu) mixed together. But Amala has gained so much national reputation that it can be combined with any tasty soup or stew. Just name it: egusi (melon) soup, vegetable stew, pepper soup, groundnut soup, ogbono (pumpkin seed) stew, okra soup. You will love it like a baby.
Rice and Vegetable stew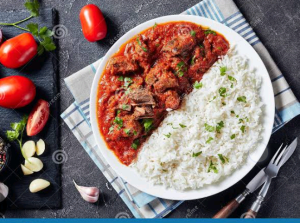 The world-famous staple called rice needs no introduction. There are scores of rice recipes everywhere. Rice is such a versatile food that can be cooked with a wide variety of other foods and combined with several ingredients. In Nigeria alone, you would come across Jollof rice, native rice, coconut rice, rice tuwo, vegetable rice, fried rice, rice and beans, or just plain rice. 
So – a simple evening meal of boiled rice with fresh vegetable stew is fast and easy to prepare. You could use water leaf, pumpkin leaves (ugwu), varieties of spinach or kale to make a simple tasty stew in less than 20 minutes. Additional ingredients for your veggie stew would normally include palm oil (or vegetable /groundnut oil), salt, seasoning, blended or chopped onions, peppers and tomatoes. Some meat, fish, boiled egg, poultry, or crayfish/prawns would balance it off. Just sit down and enjoy it like a king. 
Also Read- How To Prepare Delicious Egusi Soup
Boiled Yam/Potato/Plantain with Sauce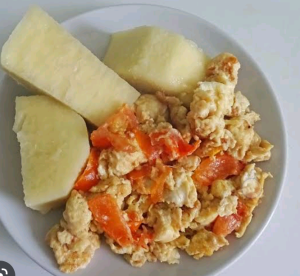 Yam – oh yes, the king of foods again. We have mentioned yam flour and yam porridge already. Yam is another versatile and naturally endowed food. And do you know what? Yam contains folic acid, an important vitamin needed for the responsible development of the brain and nervous system (especially in babies and children). Even adults need folic acid to support nervous functions. So eat it well while you can. 
Potato could also be another rich substitute to yam, and potatoes are known to have a meaningful quantity of protein. Plantains come with an additional benefit besides the vitamins, minerals and carbohydrates in them. Along with all other species of the banana family, they are great for inducing sleep, and calm nerves.
So go ahead, enjoy your boiled yam, potato or unripe plantain with any tasty sauce. 
Try scrambled eggs mixed with tomatoes and pepper. You can throw in some diced or minced meat, fish, veggies or sausages.

Or prepare a mix of chopped vegetables (leafy greens, carrots, onions, celery, garlic, pepper, tomatoes etc), fry them lightly, add season and salt to taste. Add fish, meat or crayfish if you like. 

You may want to add boiled beans (or rich bean stew) to your yam, potato or plantain. Put some fried pepper and/or tomato stew on top. It tastes wonderful.
Moin-moin/Akara and Garri/Cereal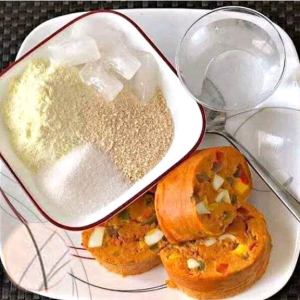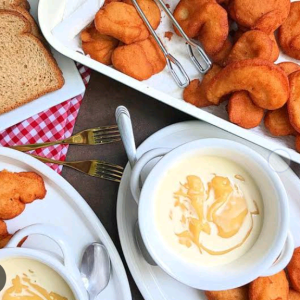 Moin-moin and akara are yummy meals made from peeled and blended beans, but prepared using different methods. Moin-moin is steamed or baked in containers or leaves. While akara is fried bean cakes. 
Beans are protein-dense, and recent research has revealed that they actually contain a significant amount of carbohydrates as well. So you should incorporate enough beans into your evening meal from time to time. To make it faster to cook, you can soak your beans in water for a while before boiling or preparing it. 
Your moin-moin or akara is a simple mix basically composed of blended beans, pepper, onions, salt and seasoning. You may add ground/powdered ginger and garlic, and crayfish for flavour. Moin-moin has more water content than akara, and does not need any vigorous mixing. Then the mixture is steamed (or baked) in small containers or wrapped leaves. Akara needs less water and some mixing to make it fluffy, before frying the batter in small scoops. It all takes roughly between 25 minutes and an hour to prepare, depending on the quantity. 
Whichever you choose, you can enjoy your moin-moin or akara with any tasty cereal. Garri (cassava flakes) is a popular accompaniment. If you want your Garri to deliver excellent taste, serve it with a mix of roasted nuts (especially peanuts, cashew nuts or coconut flakes), sugar, and milk. Wash it down with cold water – that's another dimension of satisfaction! Or if you like, you might prefer other cereals like boiled oats, pap (akamú/ogi), custard, or corn flakes to Garri. Another super alternative is to pair your moin-moin or akara with bread. Very tasty indeed!!
In Conclusion…..
You don't need a huge amount of money or time to prepare a nutritious Nigerian dinner. There are healthy Nigerian recipes that will satisfy your taste buds that are so easy and cheap to prepare. Try any of the quick-fix budget meals above and dine like a king!! 
COPYRIGHT WARNING!
You may not republish, reproduce, or redistribute any content on this website either in whole or in part without due permission or acknowledgment.
.
Proper acknowledgment includes, but not limited to;
(a) LINK BACK TO THE ARTICLE in the case of re-publication on online media,
(b) Proper referencing in the case of usage in research, magazine, brochure, or academic purposes,.
.
All contents are protected by the Digital Millennium Copyright Act 1996 (DMCA).
The images, except where otherwise indicated, are taken directly from the web, if some images were inserted by mistake violating the copyright, please contact the administrator for immediate removal.
.
We publish all content with good intentions. If you own this content & believe your copyright was violated or infringed, please contact us at [info@cyber.ng] for immediate removal.
About Post Author