If you are a Nigerian or foreigner and you love sightseeing, visiting fún spots and/or traveling, you can do that right within Nigeria. There are beautiful places you can visit in Nigeria without breaking the bank, or leaving the shores of this country. It is a privilege to find yourself in such an endowed country. You will find mountains, waterfalls, historical sites, lovely beaches, tourist centers, good food and unparalleled hospitality. 
Nevertheless, to embark on such journeys you need a guide or two to show you around. You need to know the safe places, the cheap spots, the expensive ones, fun spots, good places to lodge, how to hitch a ride without headaches when needed and more. Such beautiful places in Nigeria are not much hidden though, and they are certainly way beyond just 5. 
And Nigerians generally being helpful and friendly, you should learn to ask for directions from the locals, the street people. Even if you do not understand the local dialect, lots of Nigerians can either speak passable English or at least Pidgin English. More often than not, they would eagerly point out bus stops and streets, the beautiful places as well as ugly places. Throw in the use of the internet with maps and you are good to go any day. 
We welcome you to join us on a tour of the 5 most beautiful places to visit in Nigeria. Relax and enjoy the fun ride.
Also Read- Top 10 Yoruba Actors in Nigeria
Yankari National Park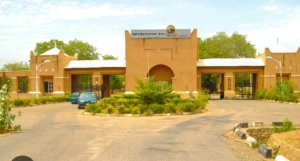 A visit to Bauchi State and its famous Yankari national park and game reserve will certainly be unforgettable. A large diversity of tropical animals and forest plants are found there – including the largest herd of elephants in Nigeria. 
But that is not all. There is the Wikki Warm Springs found inside the natural park – you can dunk yourself in it and relax. The warm springs seethe out from a network of chambers at the bottom of a sandstone cliff, at a temperature averaging 31 degrees centigrade. And at 13 meters wide and quite deep, it is wide enough for several people to soak in at once. Call it a natural spa, it is just the stress relief you need. 
Obudu Mountains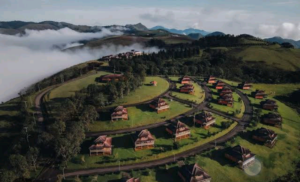 Cross River State is home to the breathtaking Obudu mountains, plateau and cattle ranch. The natural wonder is located somewhere close to the shared border with Cameroon. This amazing range of highlands stands at 5200 feet above sea level. It would give any visitor an out-of-the-world, soothing feeling to stand on the plateau and view the horizon and skylights all around. 
Temperatures on the mountain range from 15 to 30 degrees around the year. So it could move from warm to cold in a refreshing way. The mountains and ranch are accessible to tourists anytime of the year. But if you so please, target the place during the season of cold weather for a special treat – sometime between October and February. 
Lekki Conservation Centre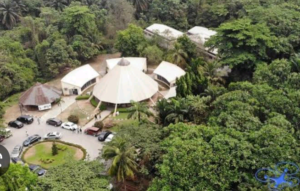 If the hustle and buzz of Lagos is a bit too stressful for you – not to worry. There are numerous, great unwinding spots in Lagos. One of them is conspicuously located on the Lekki-Epe expressway – the Lekki Conservation centre. It was built (and is still funded) by Chevron Corporation on behalf of the Nigerian Conservation Foundation. 
A huge nature reserve that spans about 78 hectares of swampy and savanah lands, it was set up in 1990. Here you will find a broad diversity of plants and animals naturally preserved from tamper by humans. There is a coconut boulevard, a 21-metre high treehouse, long raised walkways and climbs to allow visitors to see and feel the best Nature can offer, close to the lagoon.
Ikogosi Warm & Cold Springs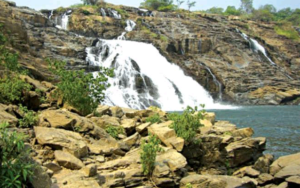 A visit to Ikogosi in Ekiti State takes you to the meeting point of two natural waterfalls and springs running side-by-side. One is hot, the other is cold. The area is sorrunded by a tropical forest. The hot spring is about 37 degrees centigrade at the confluence (meeting point) and 70 degrees at its source. The source of the springs is up a hill. 
Ikogosi is one spectacular example out of a series of impressive waterfalls found in protected locations across Nigeria. For the curious, there are also other famous ones such as:
Gurara waterfalls (Niger State)

Wikkii warm springs (Bauchi state: mentioned earlier)

Agbokim waterfalls (Cross River State)

Ogba Ukwu cave and waterfall (Anambra State)

Ogbunike cave and watefall

Farin Ruwa waterfalls (Nasarawa state)

Erin Ijesha waterfalls (Osun State)
Olumo Rock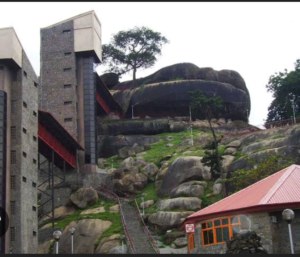 In the famous, ancient city of Abeokuta in Ogun State lies a mountain named Olumo Rock. Towering at 137 metres above sea level, the rock served as a fortress for the indigenes during the Ibadan-Egba tribal wars of the 19th century. In fact the name 'Abeokuta' (under the rock) stems from that history. It has since become a notable tourist site. 
COPYRIGHT WARNING!
You may not republish, reproduce, or redistribute any content on this website either in whole or in part without due permission or acknowledgment.
.
Proper acknowledgment includes, but not limited to;
(a) LINK BACK TO THE ARTICLE in the case of re-publication on online media,
(b) Proper referencing in the case of usage in research, magazine, brochure, or academic purposes,.
.
All contents are protected by the Digital Millennium Copyright Act 1996 (DMCA).
The images, except where otherwise indicated, are taken directly from the web, if some images were inserted by mistake violating the copyright, please contact the administrator for immediate removal.
.
We publish all content with good intentions. If you own this content & believe your copyright was violated or infringed, please contact us at [info@cyber.ng] for immediate removal.
About Post Author