Cyrpto wallet are important in the world of cryptocurrency. It's an important tool for buying, selling, and trading cryptocurrencies.
However, whether they're used for hot or cold storage, traders need them in order to keep their transactional information safe. In this article, we'll explain what crypto wallets are and the eight best crypto wallets in 2022.
The 8 Best Crypto Wallets for 2022
What is a crypto wallet and how does it work?
Cryptocurrency wallets, known as crypto wallets for short, are storage places where traders safeguard digital codes needed to interact with a blockchain (a ledger that records digital transactions).
This isn't a 100% safe box for cryptocurrencies, but to some extent, it keeps your information safe.Due to this, it isn't wrong to say that these crypto wallets serve as their owner's identification and account on a blockchain network and grant access to their transaction records.
When a person sends any digital currency to your account, they just signed off on the ownership of such a coin to your wallet address, not necessarily any coin.
You need a public key and a private key to complete this process, and they're in the form of codes. The former consists of strings of letters and numbers like B1fpARq39i7L822ywJ55xgV614 and is automatically generated by the crypto wallet provider. The latter is the same as the former, only that it's only known by the crypto wallet owner.
Once the keys are confirmed, the transaction process is completed. Now let's consider some crypto wallets you can try out.
8 Best Crypto Wallets for 2022
Coinbase Wallet (best for beginners)
This is a superb wallet for crypto newbies. It connects with major bank accounts and has a user-friendly interface. It has a three-tab layout with easy-to-understand functions.
Coinbase stores popular coins like Bitcoin, Dogecoin, etc., and ERC-20 tokens and EVM-compatible blockchains. It supports over 45,000 digital wallets on its platform.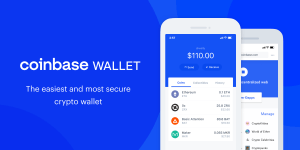 Coinbase wallet is however different from the coinbase exchange. The latter is the predominant crypto trading platform in the US.
It holds your digital assets on the exchange web wallet and gives room for easy trading transactions. Coinbase exchange however, leaves your coin prone to cyber security threats.
Coinbase wallet however, is more secured and your digital currencies aren't exposed to cyber attacks on the web. Your private key is stored on your device.
The app is available in android, iOS, iPad, and Mac devices and uses the secure enclave chip to provide biometric authentication.
The wallet also gives access to decentralized exchanges in app that converts tokens without the aid of intermediaries and offers cloud backups to protect your digital keys – optional though.
PROS
Easy to navigate User-friendly interface
Supports over 44,000 digital assets
Multi-signature and two-factor authentication support
Has a reputable trading platform to restore lost digital assets
CONS
Weak security Similar security issues and weak points as other hot storage alternatives
Available in just mobile and tablet devices except there's a chrome extension.
MetaMask (Best for Ethereum)
MetaMask is amongst the most used Ethereum wallet and has more than 30 million registered active users. It has a straightforward and well-looking design for beginners.
This wallet enables beginners to store and send Eth-compatible cryptos and interact with decentralized apps.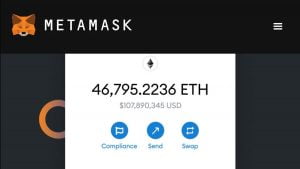 MetaMask can be downloaded via Google Chrome, Microsoft Edge, Mozilla Firefox, Brave browsers, android or iOS devices.
The wallet is built on an open source code that allows developers to review a software to ensure its secure. Information are also encrypted and stored locally and this disallows access by MetaMask servers.
PROS
Designed interface on browser extension and app
Can be linked to NFT marketplaces like OpenSea.
Supports thousands of decentralized Apps like Polygon, Binance Smart Chain and Avalanche
Cons
Ether Fees can fluctuate to buy Ether can be high
Inability to store Bitcoin directly
Trust Wallet (Best for Mobile)
This wallet is the well known online crypto wallet and the Binance official mobile app. It is non-custodial as it doesn't keep one's private keys. The wallet user takes responsibility for its security.
Trust wallet supports more than 40 blockchains and gives room for storing over 160,000 coins and tokens.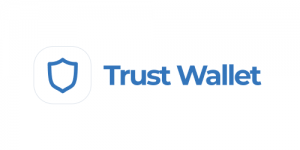 Trust wallet is integrated with Binance DEX that enable users to trade a number of tokens with their debit or credit card. This wallet is availble on both apple and google market place.
Trust Wallet is also a great mobile option for NFT and decentralized app enthusiasts. The wallet has a built-in Web3 browser, allowing users to access dApps and blockchain games directly through the app.
This feature makes buying NFTs easy, as users can look, purchase and store tokens using the incorporated decentralized exchange, all without leaving the app.
PROS
Supports a vast range of coins and tokens
Earn interest on one of 12 different cryptos
CONS
It's not predominant in the US due to Binance's regulatory issues.
Educational resources on coins and tokens are limited
Ledger Nano S Plus
Ledger Nano S Plus is amongst the popular brands in the crypto space that has hardware wallets. Its products uses a secure element component, a chip seen on passports, credit cards and payments systems and this stands it out.
It upgraded from Nano S to Nano S Plus in April 2022 which has a much better display and a greater storage capacity. It also has a USB-C cable port. However, this wallet comes with a $83.89 price. It's dimension is 2.2 × 0.7 × 0.36 inches and possesses a 128 x 64-pixel screen, which allows for easy mobility.

PROS
It can install over 100 apps at the same time
Buy and sell crypto directly through the Ledger Live app
2-button presses transactional verification.
Compatible with 50 other hardware wallets
CONS
More expensive than its original entry-level wallet
Custom operating system is not open source
Electrum
The wallet was formed in 2011 and is among the oldest crypto wallets available that only deals on bitcoin. It possesses a lot of security features like a 2-way factor, transaction proof checking, and multi-signature wallet support.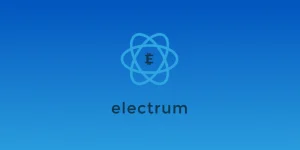 PROS
Supports both standard deterministic accounts and Hierarchical Deterministic (HD) accounts
Integration with hardware wallets (KeepKey, Ledger, Trezor) for cold storage
Greater security than other hot wallets
Customizable transaction fees
Wallets don't suffer downtime thanks to server configurations
CONS
Setup and interface not ideal for beginners
No customer support via chat, email or phone
BlueWallet (Best Mobile Bitcoin Wallet)
This wallet is an alternative to Electrum This simplified wallet is preffered to be on traders desktops who don't want any form of complexity.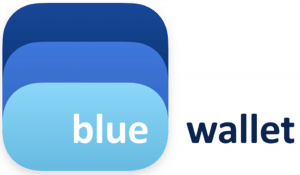 Just like Electrum, it focuses solely on innovating and improving users bitcoin experience. It has a user-friendly interface and additional features that may be appreciated by advanced users. Bluewallet has a unique feature that allows users detect a fake wallet.
PROS
Modern design with an accessible user interface
Supports both on-chain and lightning transactions
Create or import multiple wallets
Multi-signature vaults for added security
CONS
No two-factor authentication
Advanced tools could use in-app tutorials
Exodus (Best for Desktop)
Exodus wallet is amongst the most visually attractive wallet available. It was originally meant for desktop alone but now is available in iOS and android. It's compatible with a popular hardware wallet brand, Trezor wallets.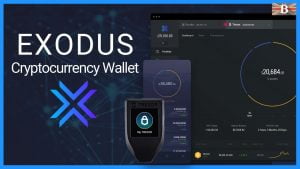 The wallet supports over 230 cryptocurrency assets like Ether, Litecoin, XRP, Bitcoin cash, Dogecoin, etc. It also gives room for live charts, crypto staking and crypto deposits. There's a simplified payment system and its speed doesn't requires complete download of blockchains.
PROS
Supports over 225 crypto assets
Compatible with Trezor One and Trezor T hardware wallets
Allows users to buy Bitcoin with Apple Pay
CONS
High transaction fees on the in-wallet crypto exchange
Abscence of the 2-way verification factor
No multi-signature support
Crypto.com (Best DeFi Wallet)
Crypto.com DeFi wallet is a good choice for newbies in the decentralized finance. This wallet gives complete control over one's digital asset and private key and this entrusts the responsibility of safekeeping their wallet.
It has some distinguishable features from normal digital wallet like a one-to-one crypto swap and various tools to enable users earn passive income on their digital asset.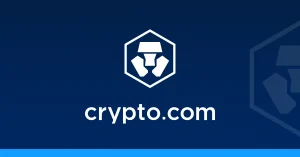 The Crypto.com DeFi wallet is however different from the crypto.com exchange in that you can download the DeFi wallet and use it for your daily crypto activities without having to create an account in the platform.
This wallet is secured as it gives room for biometric authentication, 2-factor authentication, and Secure Enclave technology on iOS devices
Choice of trading fee and confirmation speed
Acceptance of over 250 coins, including BTC, ETH, CRO, ATOM, DOT and LTC
Earn interest on more than 35 tokens
CONS
Inability to access funds upon loss of private key and recovery phase
Built-in token swap has some geo-restrictions
COPYRIGHT WARNING!
You may not republish, reproduce, or redistribute any content on this website either in whole or in part without due permission or acknowledgment.
.
Proper acknowledgment includes, but not limited to;
(a) LINK BACK TO THE ARTICLE in the case of re-publication on online media,
(b) Proper referencing in the case of usage in research, magazine, brochure, or academic purposes,.
.
All contents are protected by the Digital Millennium Copyright Act 1996 (DMCA).
The images, except where otherwise indicated, are taken directly from the web, if some images were inserted by mistake violating the copyright, please contact the administrator for immediate removal.
.
We publish all content with good intentions. If you own this content & believe your copyright was violated or infringed, please contact us at [info@cyber.ng] for immediate removal.
About Post Author