Loan apps in Nigeria have increased rapidly over the last 5 years. There are different loan apps available for easy download on play store or apple store. Every loan app has a different story to tell, different repayment periods, interest rates, available loan amount all varies.
Taking loans from banks is no easy feat, all the paper work, collateral and the immediate case of rejection and social discrimination. Loan apps have bridged those gaps and have helped people in financial distress have easy access to quick and instant loans.
This is a list of the top 10 best instant loan apps in Nigeria we could gather in 2022. They are all available for download for Nigerians in play store and apple store.
1. Branch Loan App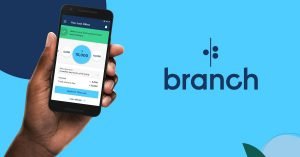 Branch Loan & Online Banking was released on March 2015. It is the first on our list with over 10million downloads on google play store with over 799,000 reviews and a whooping 4.5 star rating. The fastest way to know when an app is doing well is the ratings and 4.5 star rating says a lot.
Branch app has an interest rate of 1.5%-20% and Annual percentage rate of 18%-260% depending on the loan you take. The amounts branch loan offers ranges from ₦2,000 to ₦500,000. Branch claims that there are no late or rollover fees and no collateral necessary.
To receive a loan from branch, you will need to grant the app permission to access your phone. Your Bank Verification Number (B.V.N) and a valid ID card is also required.
Also Read- Pros and Cons of Online Loan Applications
2. FairMoney Loan App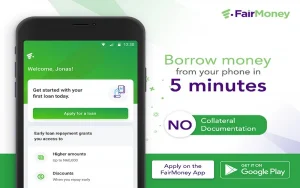 FairMoney Banking and Loans has been around since October 2017. It comes in at number 2 on our list, it has over 5million downloads, a 4.4 star rating with over 471,000 reviews on play store. Just like branch, fairmoney is not only a loan app but also a mobile banking app. This means you can carry out transactions on your fairmoney app like receiving and sending of money.
FairMoney gives loan ranging from ₦1,500 to ₦500,000. They have an interest rate of 10%-30% monthly and repayment days ranges from 61days-180days. FairMoney remains one of the most trusted loan apps in Nigeria.
3. Carbon App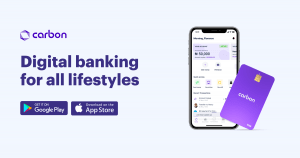 Carbon Savings, Loans & Bills has been functional since May 2016, It has apps available on both Google Play and Apple Store. It has over 1million downloads, 4.4 star rating and over 175,000 reviews on google play. Carbon has a nice, simple and easy to navigate design.
An interesting feature that separates carbon from the rest is, they offer a 10%-100% cash back on your loan if you repay on time. Carbon was formerly known as Pay-Later app, they offer loans ranging from ₦1,500 to ₦1,000,000. Interest rates on carbon can range from 10%-30% and just like the first two, they also offer other financial services.
4. Palm Credit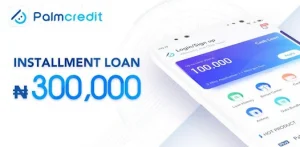 Palm Credit- instant loan online is an app with over 5million downloads on play store, It has been around since June 2018. It has a 4.2 star rating with over 173,000 reviews. Palm Credit is an app currently for loans exclusively without rendering other financial services. Simple documentation live BVN, means of identification and others are required before taking a loan on palm credit.
They offer loans to individuals ranging from age 18-60. Palm credit can offer loans ranging from ₦2,000 to ₦500,000 in minutes. The repayment period ranges from 4-26 weeks with an interest rate of 5-28% monthly.
5. Okash Loan App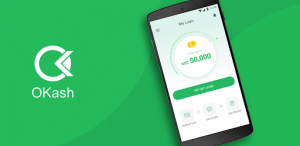 Okash is a loan app powered by Opay, it is one of the most used loan apps in Nigeria and was released on November 2019. On play store, Okash has over 1million downloads, 98,000 reviews and a 4.3 star rating. Formerly, the micro loans offered by Okash was accessed directly from Opay before a dedicated app was made for loans.
Okash does not give loans to individuals older than 55years or younger than 20years. The app offers loans ranging from ₦3,000 to ₦500,000 and the repayment plan ranges from 91 days to 365 days. Okash interest rate is at 1.5% per day for 15days.
6. EasyCredit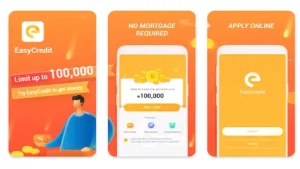 EasyCredit: Secure Online Loan has been around since September 2020. It has over 1million downloads, 60,000 reviews and a 3.9 star rating on google play. EasyCredit offers loans to Nigerians within the ages of 20 years to 60 years.
The lending amount of EasyCredit ranges between ₦3,000 to ₦100,000 and the lending term is between 91 days to 365 days. The only downside is, unlike other loan apps on this list, EasyCredit charges a one time processing fee on loans. The interest rates charges can be as low as 3% and the one time processing fee varies.
7. Aella Credit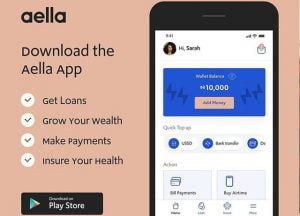 Aella App: Savings, Loans & Bills is a trusted loan app that also offer your day to day financial services, It has been available since October 2016. They have over a million downloads, 4.0 star rating from 34,000 reviews on google play.
Aella Credit offers loans from ₦1,500 to ₦1,000,000 with a repayment period of 60 days to 180 days. They have a monthly interest rate of 2% to 20% and APR from 22% – 264% per annum.
Also Read- 5 Money-Saving Apps 2022
8. Quick Check Loan App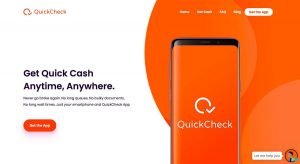 QuickCheck Fast and Personal Loan App has been around July 2016. They have over a million downloads, 4.5 star rating and over 146,000 reviews on google play. Quickcheck offers loan from ₦1,500 to ₦500,000 with repayment period ranging between 91 days – 365 days.
Quickcheck has an efficient way of credit scoring to maximize the amount a user can receive. They have a monthly interest rate of 2% – 21%. Quickcheck has been around for quite some time and have gained the trust of many Nigerians.
9. Umba Loan App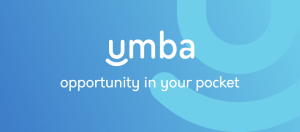 Umba- Africa's Digital Bank was has been around since October 2020. From the name, you can tell that this loan app aims to target multiple African countries. Umba has over a million downloads, a 3.9 star rating with over 24,000 reviews. In just a short time, Umba has gained a lot of users that trust and vouch for their services.
Umba has a maximum and minimum loan duration of 62 days with a loan amount of ₦2,000 to ₦30,000. The interest rate is a flat rate of 10% which will be paid at the end of the 62 days. Umba's terms of service makes it a really interesting choice and pretty straightforward to use.
10. Newcredit Loan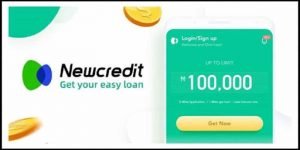 Newcredit safe & instant loan is a fast rising trusted loan app in Nigeria. They have over 1million downloads, 4.3 star rating and over 75,000 reviews on google play. Newcredit offers loans from ₦10,000 to ₦300,000 with a monthly interest rate of 4%-24%.
The repayment period ranges from 91days to 365days. No collateral is required for taking a loan from Newcredit. Only Nigerians from 18-60 years of age with valid identification documents and a bank verification number is qualified. Newcredit loan app was released on October 2020.
Summary
Try not to rush when signing up for loan apps, there are tons of fraudulent loan apps in Nigeria. Apps that give loans with ridiculous interest rates and impossible time frames are everywhere. Always go through terms and conditions, make proper research and inquiries before taking a loan from any app. Make sure you have a plan to repay loans to avoid penalties and paying more than you should.
Branch Loan App
Fair money Loan App
Carbon App
Palm Credit
Okash
Easy Credit
Aella
Quick Check
Umba
New Credit Loan
These 10 apps listed above are among the best recommended Nigerian loan apps available in 2022. Is there anyone we missed?  Please let us know using the comment section below.
COPYRIGHT WARNING!
You may not republish, reproduce, or redistribute any content on this website either in whole or in part without due permission or acknowledgment.
.
Proper acknowledgment includes, but not limited to;
(a) LINK BACK TO THE ARTICLE in the case of re-publication on online media,
(b) Proper referencing in the case of usage in research, magazine, brochure, or academic purposes,.
.
All contents are protected by the Digital Millennium Copyright Act 1996 (DMCA).
The images, except where otherwise indicated, are taken directly from the web, if some images were inserted by mistake violating the copyright, please contact the administrator for immediate removal.
.
We publish all content with good intentions. If you own this content & believe your copyright was violated or infringed, please contact us at [info@cyber.ng] for immediate removal.
About Post Author