Nigeria has some of the most delicious street foods you can ever think of. Some of these street foods are so rich and filling, they could be taken as full meals. However they are often classified as snacks. We will be elaborating on Nigeria's top 10 street foods and where to find them. 
Any cross-country traveler observing the streets would have noticed that each geographical region has its peculiar street foods. And fortunately they are quite convenient to get at any time, in the high and low places.  Workers, students and artisans on the move have little difficulty getting access to them at almost any time of the day. 
What is even more fascinating is the case of cosmopolitan Lagos. The city has become a huge boiling pot of settlers from virtually every tribe in Nigeria. Foreigners are also not lacking in the urban and suburban centres of Lagos. And they brought with them critical elements of their tradition and lifestyle – which includes their foods. 
So we have numerous intercontinental foods, and street foods from every known Nigerian tribe here and there across Lagos. They comfortably exist side by side, so there is a wide variety to choose from according to the size of your pocket. So we welcome you to have a quality visual and descriptive experience of our pick of Nigeria's top 10 street foods. Enjoy the ride.
Corn
Corn or maize is grown in abundance across Nigeria. Corn is normally harvested at the peak of the rainy season, and soon enough it is all over the streets. Corn can be boiled, roasted, made into popcorn, or turned into 'tuwo' (steamed corn flour). So expect to see fresh and fragrant corn roasted or boiled on the streets during its season. It is often taken with African pear or coconut and quite tasty.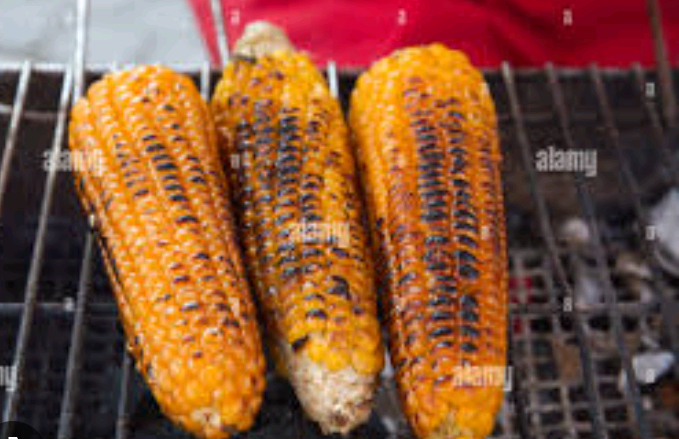 Eateries where you can find it: A very common sight on busy streets in Nigeria. 
Plantains
One of the tastiest and richest of Nigeria's top 10 street foods is plantain. It is a full and filling meal in itself, but is often taken along with other accompaniments. Fried plantains are quite popular, and can be served with rice, beans, fried yams and potatoes, scrambled eggs or cassava flakes (garri).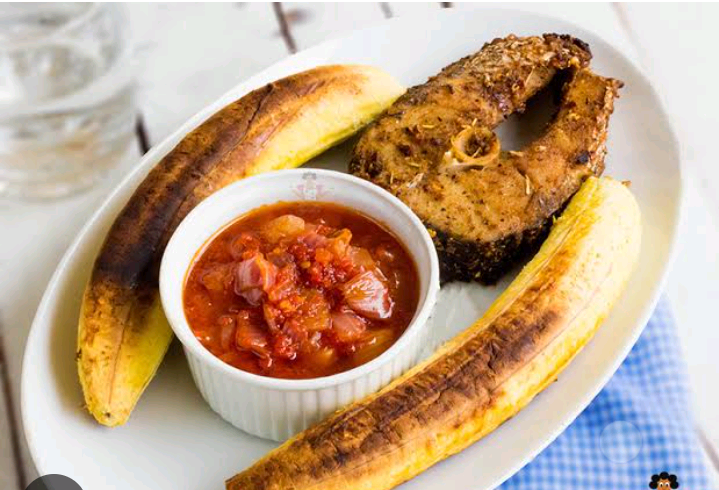 Roasted plantain or Boli is another favorite in many places, including Lagos and Port Harcourt. It is often served with roasted peanuts, fried/roasted fish and fried stew. 
Eateries where you can find it: Virtually every eatery serves fried plantain. 
Suya
The crown bearer of Nigeria's top 10 street foods is definitely Suya. This delicacy originated in Northern Nigeria, and has been taken everywhere along with its signature Yaji spice which tastes like heaven. It comprises grilled fillets of beef, often served with sliced vegetables (e.g. onion, tomatoes, cucumber) and pepper. It is a typical evening snack, as you will not find the sellers while the sun is up. 
City dwellers in Nigeria have taken the suya business to another dimension. Now we have chicken, turkey, goat meat, fish, ram meat, rabbit and guinea fowl grilled and served almost in the Suya style. Fried stew, mixed veggies and spices are added for an unforgettable gourmet experience.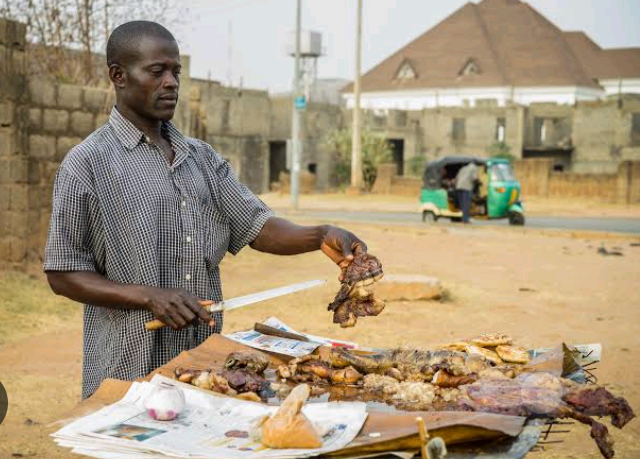 Eateries where you can find it: It is quite a common feature of evening/night life, you will commonly see the sellers (young Northerners/malams) around town. You can also try University of Suya (Allen Avenue, Ikeja); 
Akara & Moin-Moin
Akara & Moin-moin which originated from amongst the Yorubas of western Nigeria, are two tasty foods prepared out of blended beans. The methods of preparation in each case are just slightly different. While Akara is fried bean cakes, Moin-Moin is steamed bean pudding. However, the ingredients are often similar: seasoning, salt, onions, pepper, optional shredded meat/fish/eggs/crayfish, and cooking oil. Moin-Moin also has a more watery consistency than bean cakes before it is steamed in containers. 
These two foods are common and absolutely tasty street foods in Nigeria. Akara is commonly eaten with cassava flakes, bread, fried potatoes or fried yams. Moin-Moin is also served as an accompaniment with bread or cassava flakes. However, Moin-Moin has attained celebrity status, and has been upgraded to a party meal that goes with jollof or fried rice and plantain.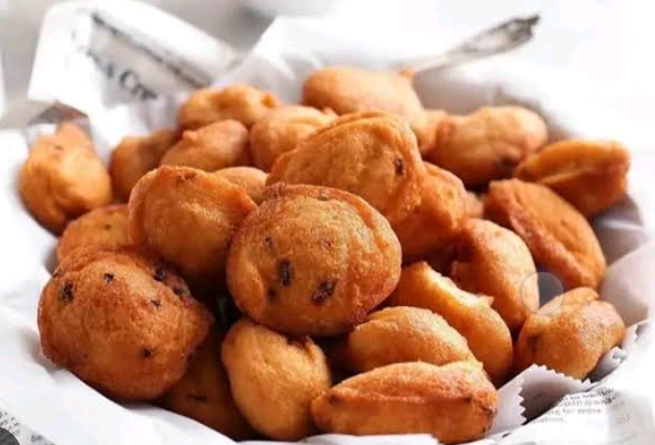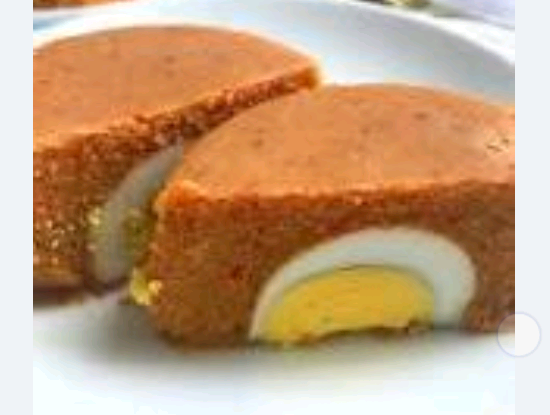 Eateries where you can find them: Moin-Moin is found in practically every eatery in Nigeria. Akara is more common on the streets. But you can try Mega Chicken and Mr. Biggs restaurants to get bean cakes as well.
Okpa
Okpa is steamed pudding made from blended Bambara nuts, and it originated in eastern Nigeria. Veggies, palm oil, pepper, onions, seasoning and salt are its common ingredients, with optional add-ons like crayfish. 
Eateries where you can find them: Keep your eyes wide open. The sellers are usually fiund in busy markets.
Fried Yams and Potatoes
Yams and potatoes are very rich carbohydrate foods commonly grown in Nigeria. Yams are more seasonal, and the harvest period often falls between June and August. Potatoes are a bit more abundant. These two foods can be boiled, roasted, and fried in several ways, but they are particularly tasty when fried. They can be eaten with fried plantains, meat, fish, or pepper stew. 
Eateries where you can find them: Domino's pizza, Mr. Biggs. 
Puff Puff & Buns
Puff puff are pastry snacks made out of wheat flour. And they are incredibly common on Nigerian streets; hawkers and street vendors often sell them. Apart from the wheat flour, the ingredients are just slightly different. But the major difference is in the leavening agent. While puff puff uses yeast (making it soft), buns make use of baking soda (making it crunchier and harder). But they have become so popular that they are now common party snacks often served as 'small chops'. And they are typical students' delight.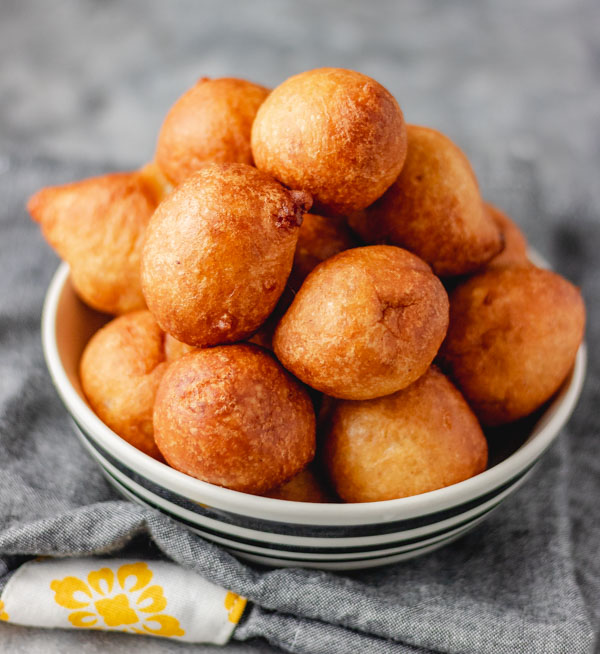 Eateries where you can find them: You will probably not see them in eateries. But watch out for neat showglass cabinets belonging to snack sellers and caterers around town, you will find them. 
Noodles and Eggs
This common street food has been nicknamed 'Meshai'. Fried noodles and eggs are often prepared by young Northern malams in street kiosks, and can be served up as dinner or breakfast. They are commonly found around town.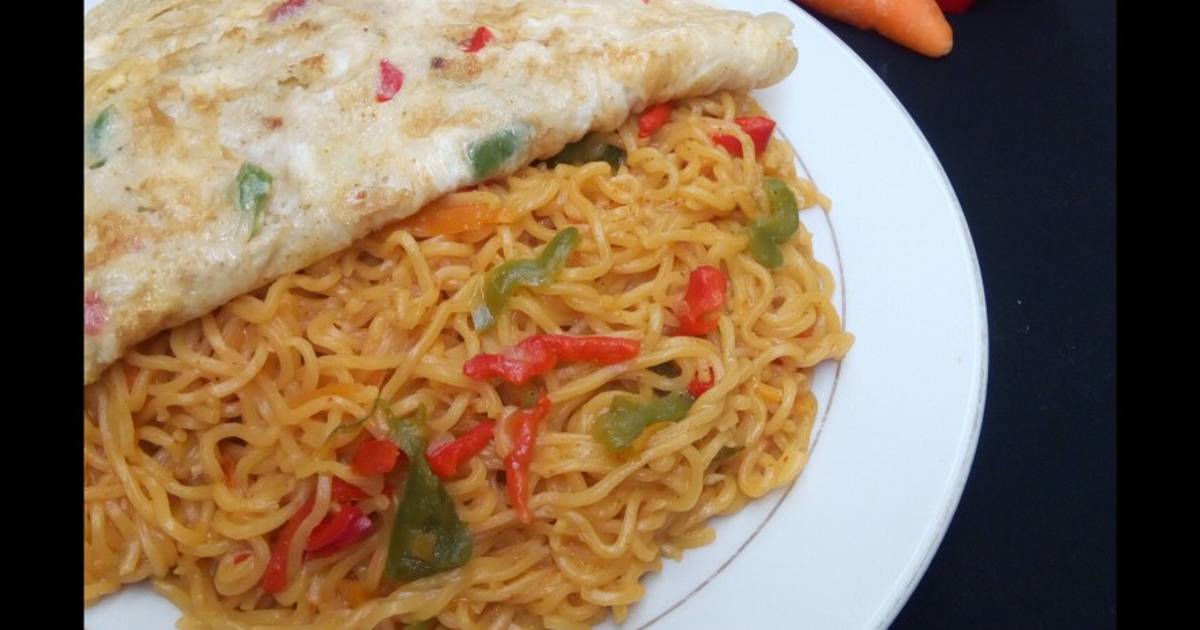 Eateries where you can find them: Most of the popular eateries serve it. 
Kilishi
Kilishi is a spicy, tasty, drier/leaner version of the street Suya, also from Northern Nigeria. Also called beef jerky, this version of beef fillets can be easily packaged into wrappers and preserved for longer than Suya.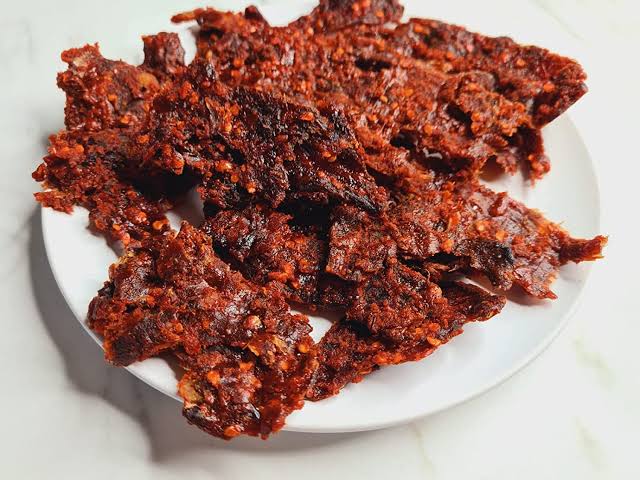 Eateries where you can find them: Don't go far at all. Several supermarkets and superstores now sell well-packaged kilishi. 
Ẹwà Agoyin and Agege Bread
The versatile Nigerian beans has another tasty product – a street food called 'Ẹwà Agonyin'. This is soft-boiled beans served with hot pepper sauce. It was originally brought from other West African countries, notably Togo and Benin. But now it is very popular in western Nigeria, especially in Lagos. Ẹwà Agoyin is normally served with our signature soft 'Agege bread'; and the taste takes you to heaven and back. Other popular accompaniments include boiled/fried yams, potatoes, and fried plantains.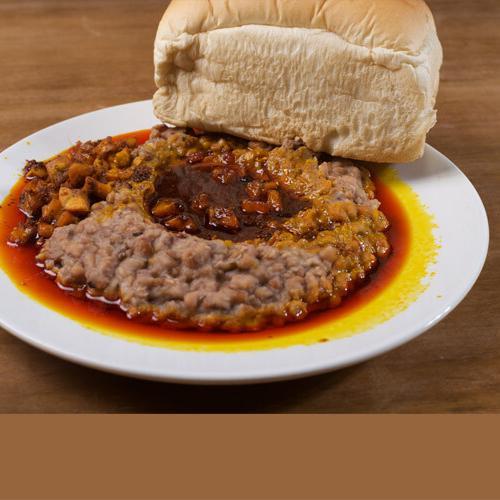 Eateries where you can find them: African Kitchen, Corporate Ewa, Ewagonyin_republic and so many other eateries. 
COPYRIGHT WARNING!
You may not republish, reproduce, or redistribute any content on this website either in whole or in part without due permission or acknowledgment.
.
Proper acknowledgment includes, but not limited to;
(a) LINK BACK TO THE ARTICLE in the case of re-publication on online media,
(b) Proper referencing in the case of usage in research, magazine, brochure, or academic purposes,.
.
All contents are protected by the Digital Millennium Copyright Act 1996 (DMCA).
The images, except where otherwise indicated, are taken directly from the web, if some images were inserted by mistake violating the copyright, please contact the administrator for immediate removal.
.
We publish all content with good intentions. If you own this content & believe your copyright was violated or infringed, please contact us at [info@cyber.ng] for immediate removal.
About Post Author